Coffeemaker in glass using a patented double sieve stainless steel filter system. Perfect coffee brewed by hand! No plastic, No paper filter – just good coffee.
Delivery time
1-3 workdays
ARCA X-TRACT BREW
SIMPLE & BEAUTIFUL.
PROBABLY ONE OF THE MOST ECO-FRIENDLY WAYS OF BREWING DELICIOUS COFFEE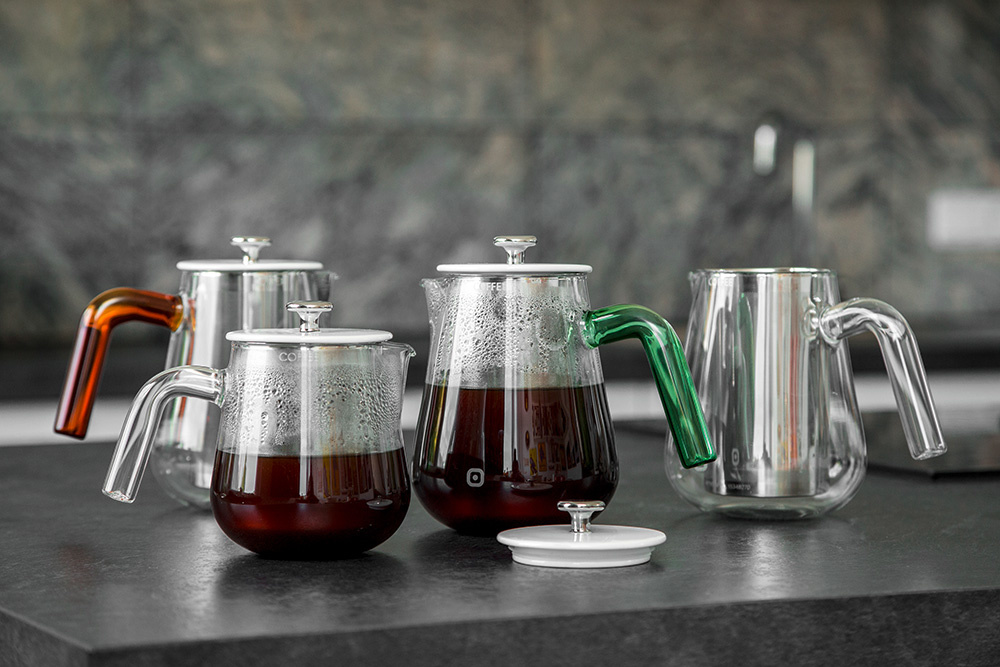 Good coffee is simple!
X-TRACT-BREW is a simple way to brew a proper cup of coffee without paper filters. The extraction method is a "non-forced extraction" or full-immersion brewing process, comparable to making tea or professional "coffee cupping". It allows you to make your coffee exactly as you would like it at any time. What do we mean by that? You can use any grind quality, quantity of coffee or water temperature. Anything is possible as long as you like it. From a fruity cold brewed coffee on a hot summer's day to a strong, dark after-dinner brew, made to please you and your guests. It all depends on how you love your coffee at that time of day. Maybe you enjoy coffee by adding flavour shots to your hot cup or some gin to your cold brew – it's up to you, let your imagination run free. Don't let any smart aleck tell you how to make a simple coffee. Try it out and have fun! It's only coffee not science.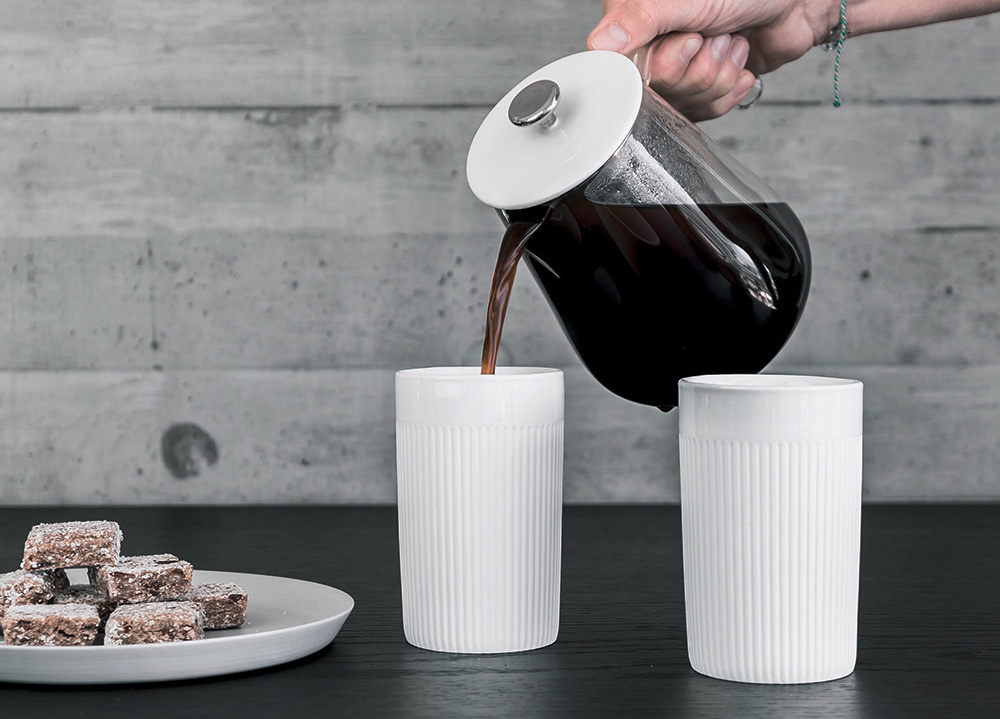 The beautiful & functional design of the ARCA Coffee maker
The X-TRACT-BREW ARCA is a heat resistant borosilicate glass jug with a patented double-sieve filtration system invented and developed by the design team of Victor & Victoria. The filters are produced using an age-old etching technology. Highly skilled glassblowers make the handcrafted glass jugs. The lid is made of porcelain with a patented silicon ring, which keeps the lid tight to the filter, to prevent that the lid ends up in your freshly brewed coffee when pouring your coffee in a calm and steady manner. 
X-TRACT-BREW. Design by Yamamoto & Co for Carl Henkel Brewers.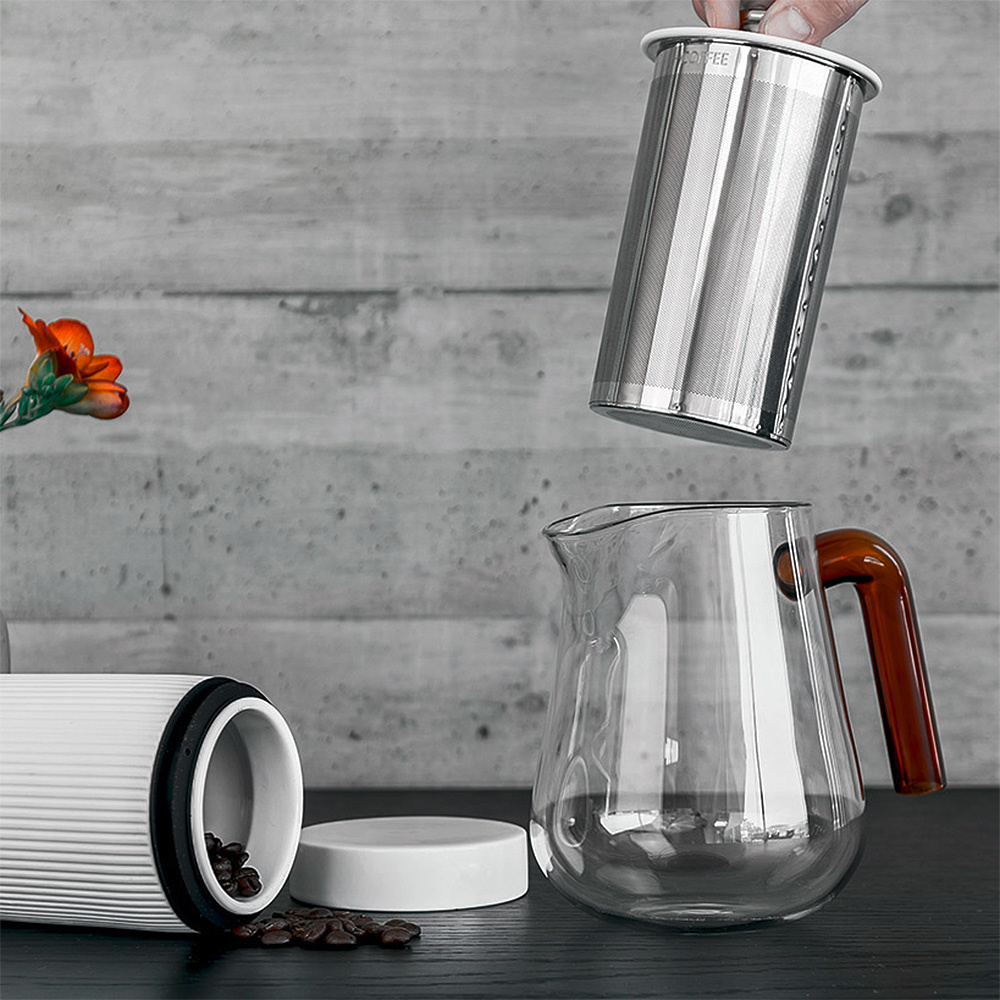 Anyone can make a fantastic cup of coffee!
1. 
Coffee is a delicacy and the taste depends on freshness, the bean you choose and the roaster. Make sure you buy good coffee from a known source of growers and suppliers. It's no fun to drink coffee from farmers who are heavily exploited.
2. The roaster gets the most out of the coffee. There are some who tell a great story and others who are real masters. If you're lucky, you'll find a roaster who treats your coffee the way you like it and knows the suppliers too. For the X-TRACT-BREW process we recommend a dark roast, because the coffee is filtered without pressure, unlike espresso or pressed coffee. Of course you can use any type of coffee. Some supermarkets also offer good Fair Trade blends.
3
. We recommend grinding the coffee to a semi-fine grade at home or where you buy your coffee. The powder grade is especially important since it is about releasing as much taste from the coffee as possible. Experiment to see what suits your taste best.
4. Think about how you like your perfect cup of coffee. Maybe in the morning you prefer it slightly weaker than later in the day. As a rule of thumb you can try between 4-6g of ground coffee per cup (125ml). A heaped teaspoon is probably around 4g. So, if you start by using 6-8 teaspoons of coffee for a full jug (800ml), you can then experiment with more or less.
5
. Bring fresh tap water to the boil, and as you pour the water it will reach a temperature of between 96° and 92°C before it hits the coffee powder, which is about right for the X-TRACT brewing method.

6
. You can now stir the coffee in the filter gently and let it X-tract for about 4-5 minutes or more. Do not be afraid to keep the X-tract filter in the jug, as the coffee powder will not harm the taste of the coffee beverage however long you leave it in the jug.

7. Take care when the jug is full of hot coffee. Pour gently into your cup and enjoy!
8. To clean the filter, simply throw the used coffee grounds into the compost and rinse the remains under the tap. Once in a while, a proper hot cleaning in the dishwasher or by hand is necessary to wash the coffee oils out of the filter.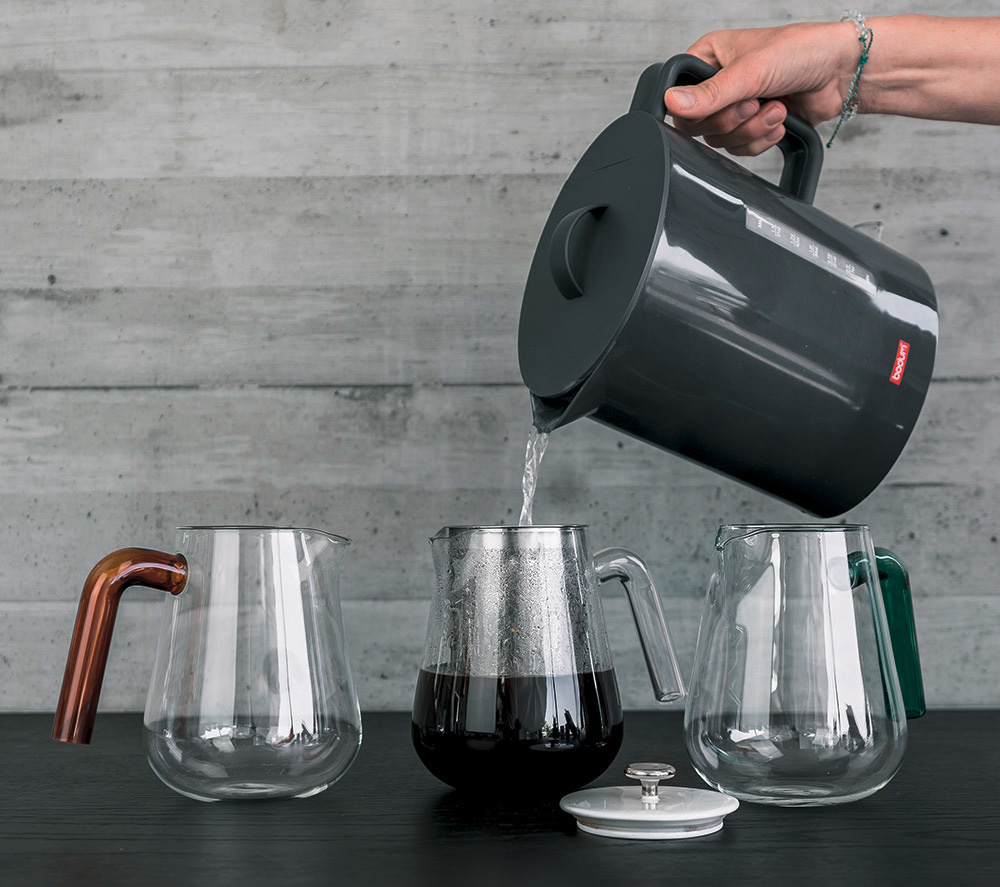 Coldbrew
There are several ways to prepare cold brew. Either you pour cold water over the coffee and leave it in the fridge overnight (for about 12 hours) or you put ice cubes on the coffee in the filter. As the ice melts, the water slowly filters through the coffee and extracts to make a deliciously refreshing brew in summer. Both methods are worth trying!
The difference to French Press coffee
With X-TRACT-BREW you can use any grind, whereas the French Press requires coarse grinds because of the clogging of the coffee powder under the filter. X-tract-brew is much safer by avoiding breakages of the beaker or a fountain of hot coffee pressed out of the spout when using too much energy. X-TRACT-BREW is not forcing the coffee by pressing or even squeezing. Secondly, the coarsely ground coffee is limited in the variations of taste extraction or soluble yield. Using the x-tract method you can vary all grinds to suit yourself and get the full taste. The third advantage: the filter is much easier to clean as you simply dump the grounds into the organic bin or compost, afterwards rinsing or cleaning in the dishwasher.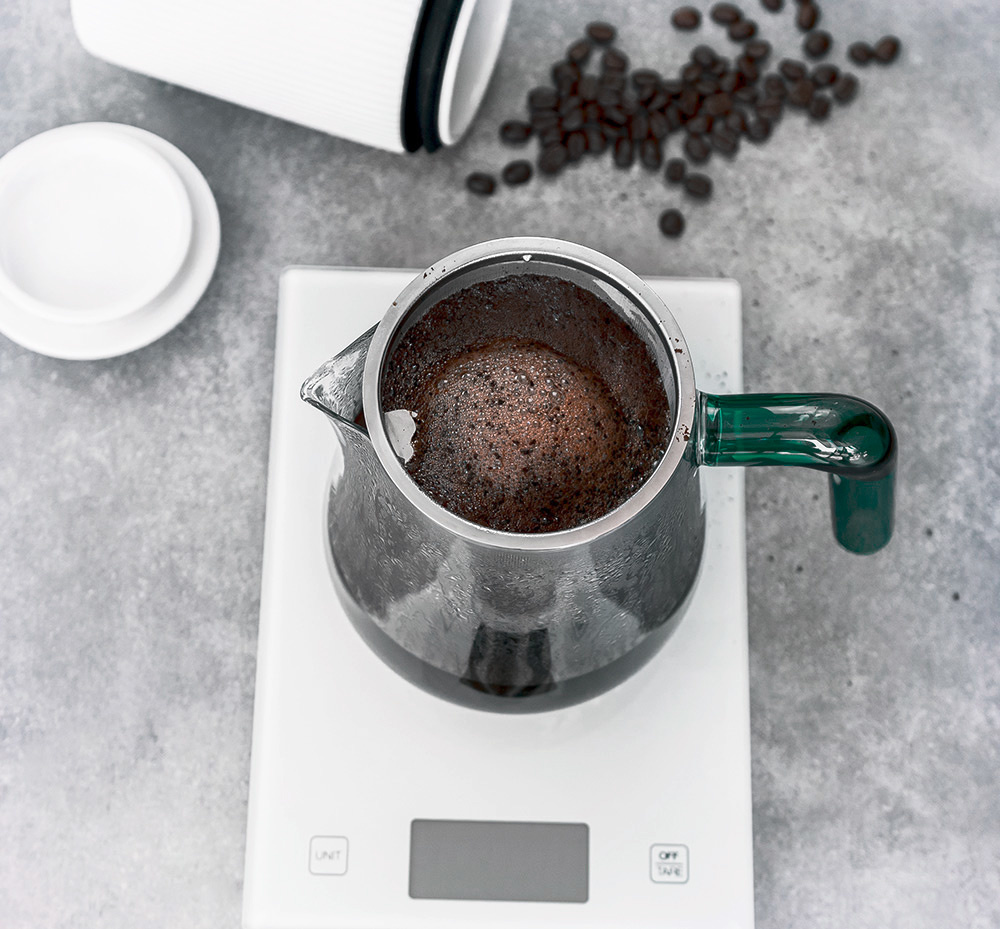 Registrations & Patents used for X-TRACT-BREW 
The X-TRACT-BREW is a registered trademark for Carl Henkel GmbH. The double-filter and the lid function are both patented (number: 20 2017 105 060).
ARCA X-TRACT-BREW is available in 3 different colours for the handles.
The clear ARCA is also available in 0,5 liter (2-4 cups).
0.8 l or 4-6 cups of coffee; Diameter filter 8.5 cm, height 16.5 cm; Length (including handle) 17.5 cm.

5

stars based on

4

reviews

Die Kanne ist, in einfachen Worten geschrieben, einfach nur klasse! Durch den perfekt entwickelten, fein gelaserten Filter können wir die sensorischen Tests unserer Produkte komplett über die Arca X-TRACT-BREW – mit selbstverständlich perfekten Ergebnissen – verkosten, ohne dass ein Fremdgeschmack unseren Kaffee beeinflusst. Es bleibt auch kein Haushalt ohne diese tolle Kanne, sobald der Kaffee einmal damit zubereitet wurde. In unserem Kollegen- und Freundeskreis geht dieses phantastische Produkt einfach "viral" :)

wir haben durch liebe Bekannte die Arca entdeckt, sind seit vielen Jahren Teetrinker mit wenigen Malen Kaffee beim Frühstück. Aber jetzt trinken wir seit dem Sommer den Kaffee aus der Arca und sind begeistert. Bei heißem Wetter als Cold-Brew mit Hafermilch und jetzt im Herbst am Nachmittag pur, ohne Milch und Zucker. Der Kaffee hat einen ganz neuen, besonderen Geschmack für uns bekommen und es war eine gute Entscheidung eine Arca zu kaufen. Wir möchten sie nicht mehr missen.

ich bin super begeistert von meiner neuen Kaffeekanne. Ich habe schon lange nicht mehr einen so guten Kaffee getrunken!!! Genieße ihn jeden Tag.
Und das so unkompliziert und schnell.
Ich bin sehr froh, dass ich Sie im Internet gefunden habe und empfehle Sie auch sehr gerne weiter. Das Suchen hat sich wirklich gelohnt.
Der Kaffee ist auch sehr lecker und gut bekömmlich.

Einfach zu bedienen. Entspricht den Erwartungen!
Der Kaffee schmeckt wunderbar!
5

stars based on

4

reviews