Posted on
By Jürgen Henkel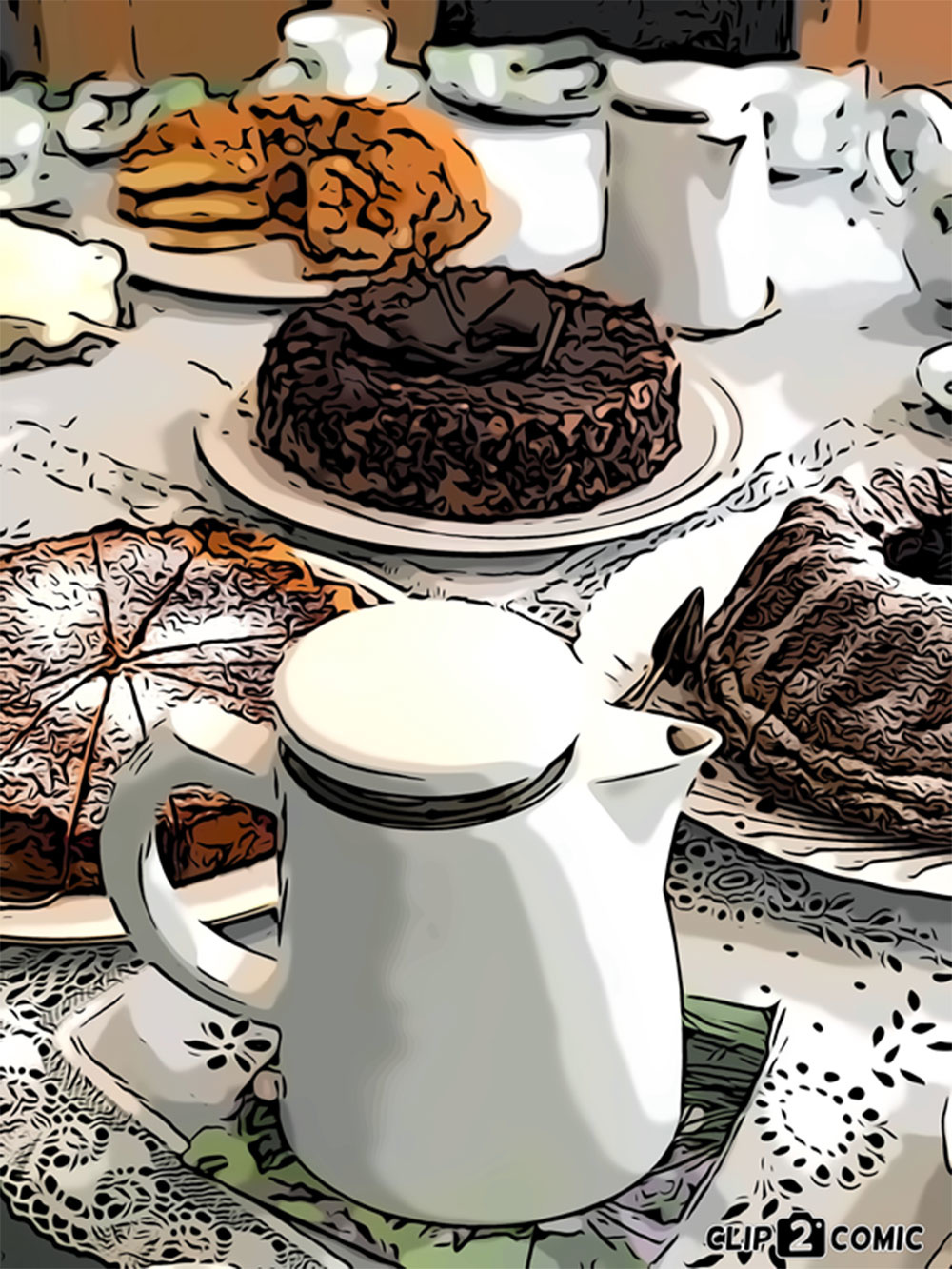 If your product gets copied this might be a sure hint that you're on a good way of becoming a classic design. Is the iconic Sowden Oskar SoftBrew® on its way to fame?
It's already 10 years since we introduced the SoftBrew® idea for coffee and tea together with George Sowden to the market. Of course, on one side it's extremely annoying to be confronted with some lousy copies of your "first born child". The Sowden Oskar has been actually the first product of Carl Henkel Brewers when we started our company in 2010. On the other side we thought it might be time to point out the originality and uniqueness of the original designers product of Georg Sowden.
Good taste only comes with the beauty of the origin!
The first thing what catches the eye is the beauty of the Oskar coffeemaker. This beauty will last for a lifetime and gives you some happiness on a daily base. Why is it like this? Some products have this appeal and others not. It's quite important for a coffee device as you're looking at it first thing in the morning, nearly every day. Better you become friends. George Sowden is one of the not so many designers of world format. He has achieved many things during his lifetime and is doing so still. Further down you'll find a link to his homepage. You'll be surprised by the greatness of product designs. Actually you're buying a piece of art…
This is not important to George Sowden, as I know him. He is happy if you use an object like his Oskar for everyday and you love it like he does. If you don't want to miss it anymore and it became part of your daily routines, which would make him smile and feeling proud.
Therefore comes the next point, the practical side of the product. Why is it so nice to handle Oskar?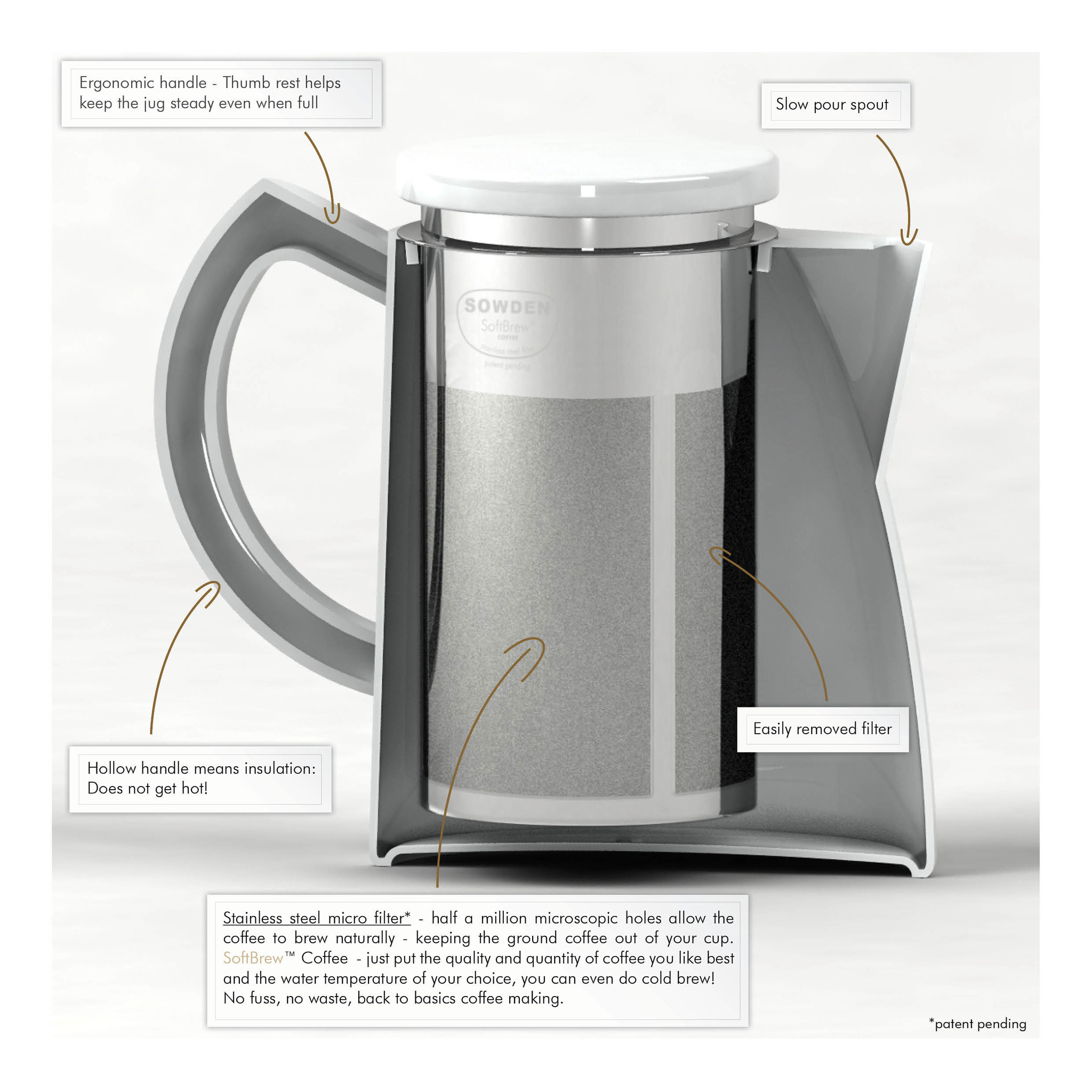 The patented stainless steel filter is different to lookalikes because of the form of the holes. Believe it or not, it makes a difference in the cup. Many factories can produce a stainless steel filter, but most of them we wouldn't recommend for making coffee, use them for tea or herbal treatments if you bought one…
The handle of the jug is hollow and gets attached separately. That is good, because you don't burn your fingers and it's a thicker handle, so it's comfortable to use and handle the weight.
The high quality and thickness of the porcelain makes sure your coffee stays hot for a long time. We have tested it as well on a small rechaud using a tea light. This kept the coffee hot for a long time. The other question that appears is about the filter. We leave it inside and don't have bitterness in our coffee. The good thing is, the coffee inside the jug keeps the heat and you have your tasty hot coffee for a longer breakfast or brunch.
The spout is perfectly formed by a carpenter who knows his profession. It's simply beautiful.
These are some points that make the Sowden Oskar SoftBrew what it is today and we hope it may become the classic coffee maker. The product deserves it.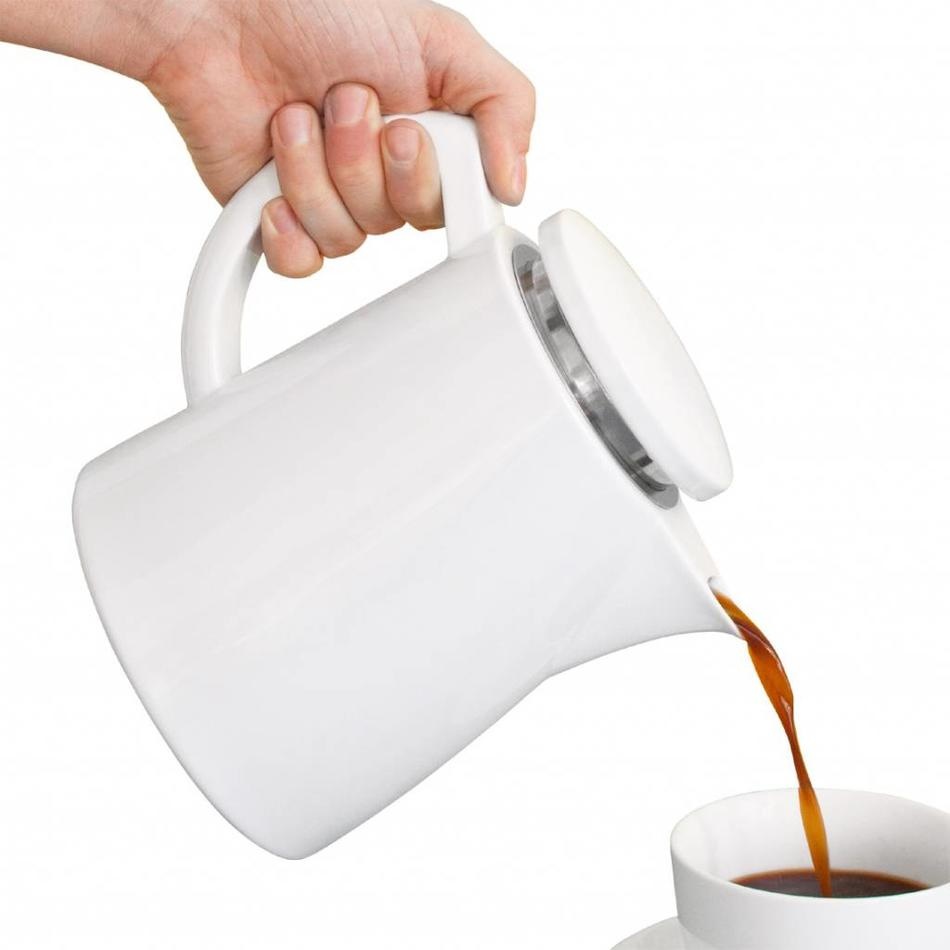 Why is the Sowden coffee pot so much more expensive than the copies?
First of all it's a troublesome long way inventing a new product. Always without knowing if your product finds a market. You're almost left alone with huge cost and risk. As a start up company we had to bear the cost for sampling, testing, traveling, new prototypes, tooling etc. all on our own. If someone copies a product he saves all that risk and investment.
The other thing is the quantities you might buy from the factories. We aren't able to buy big quantities, as we don't have customers. If you're a big brand or retailer you start with lots of selling points and marketing procedures that we don't have until today.
More savings come with simpler materials. That makes sense for companies with big quantities; if you save $1 it's a lot if you count a million pieces. Probably it's bad for the product, but who cares…? We do.
Another obvious reason is the way in which small companies like us are distributing the products. We sell only very little through our own online shop. We partner up with other small businesses like coffee roasters, specialised retailers, concept stores and some small digital companies. But mostly it's small stores, which make your neighbourhoods so pretty. The ones you missed through the crisis and we all were hoping that small businesses are going to survive. For survival they need margins, and they deserves them, because they tested the product for you and explain it to you. They have it on stock and you can touch and feel it. May be you can even try it. What do you get from the copycats? They stole the idea, the content from homepages and make it cheap. But, you can feel it on the product – every day.
If you use the original Sowden coffee maker everyday for about one year, it'll cost you below €0.20 per day. You may want to calculate the cost for a lifetime? It'll be funny if your children would continue using it. We have plenty of spare parts on stock if you loose the lid or you want a new filter…
GOOD DESIGN MAKES YOU HAPPY FOR A LIFETIME. GOOD TASTE IS A HOLISTIC EXPERIENCE.
Enjoy the video: Fresh pan roasted coffee and brewed on site in a Sowden Oskar SoftBrew®.
You can buy the ORIGINAL Oskar Sowden Soft Brew here.
More about George Sowden: https://www.carlhenkel.com/de/service/george-sowden
Homepage George Sowden: https://www.georgesowden.com
Link to Oskar on the homepage of George Sowden: https://www.georgesowden.com/now2010-industrial-sowden