Posted on
By George Sowden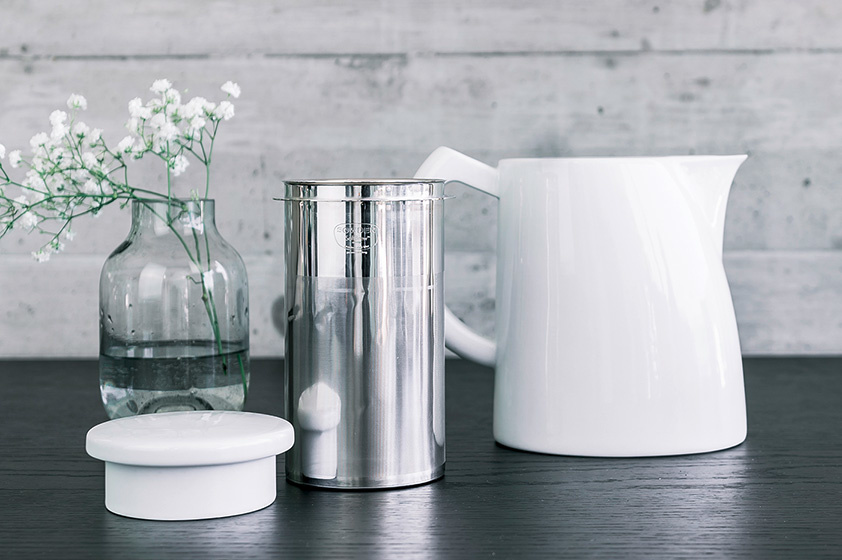 Recently I found this text from George Sowden that must have been written around 2012 – 2013. I love this farsighted designers Opinion, the impact we have today and of course his product. Our original SOWDEN SoftBrew Oskar.
"Let's discard the twin curse of tea bags and coffee capsules and enjoy a better-tasting brew," says designer, George Sowden
The statistics are frightening. The UK Tea Council tells us that 96 per cent of the tea consumed in the UK is made with tea bags; representing 62.5 billion cups a year (165 million cups a day) and sending some 370,000 tonnes into UK landfill sites.
And for the 70 million cups of coffee drunk in the UK each day, the story is similar. Britons bought some 186 million capsules for single cup coffee brewers at a cost of some £56 million, most of them destined to end up as landfill.
In the US where single-cup coffee brewing is the hottest sector of the coffee business, the waste from coffee capsules is even more pronounced. Sales of the coffee capsule machines have reached some $2 billion a year and they are now reported to be in 12 per cent of all US households.
Only 70 to 80 per cent of tea bags are biodegradable since they are sealed with a heat resistant polypropylene plastic, whilst aluminium and plastic coffee capsules are pretty much all waste. When asked about the ecological impact of the coffee capsule, John Sylvan, one of the founders of Keurig who invented the single-serve capsule method in 1990, acknowledged that "there's nothing green about it."
Manufacturers scrambling to look eco-friendly
The big producers are currently scrambling to look eco-friendly and answer a growing consumer backlash against all this waste with Unilever, the producer of PG tips and the world's biggest tea company, launching a "Monkey's recycle challenge" in partnership with Recyclebank in the UK whilst committing to halving the waste associated with its products by the year 2020.
Meanwhile on the coffee front Nespresso is introducing its own limited recycling bagging and collection services, but tied to its ordering procedures.
A simple answer employing new filter technology
Does all this ecological disaster in the making produce a better-tasting coffee or tea?
Quite the contrary, says Milan-based British designer, George Sowden, whose newly introduced own-brand coffee and tea pots are wowing true coffee buffs around the world with their simple jug-and-water approach made possible by some innovative photo-
etching technology and a proprietary stainless-steel micro-thin filter designed to extract the maximum aromatic and full-bodied flavour of coffee.
Patented and marketed as SoftBrew, the filter, with its 160,000 microscopic holes so small that they are not discernible with the naked eye, fits within a porcelain pot. Put ground coffee in the filter, add water just off the boil and let it brew naturally. The ultra-fine mesh of the filter traps all but a few traces of the coffee grounds, thus producing a natural, full-taste coffee.
No paper filters to take out some of the natural oils that add to the taste. No forced pressing to bring out the bitterness lurking in the coffee grounds. None of the paraphernalia surrounding ever more complex and expensive coffee machines. Nothing, in other words, to get between you and the coffee bean other than water. So no unnatural waste – only the leftover grounds themselves, a natural fertiliser for the garden and a slug and snail deterrent!
Something that's not been done since Wedgwood
George Sowden also claims to have improved the teapot – "something that's not been done since Wedgwood." The same microscopic full-size filter has been used in his range of teapots to tempt tea drinkers back into the real-taste world of loose leaf tea.
"Much the same as with sausages, we're all suspicious of what actually goes into tea bags and very often they do taste like sweepings from the factory floor," said Sowden.
He also questions whether the tea bag and coffee capsule consumers really understand what they are buying? Do they appreciate that the actual coffee in a Nespresso capsule is just five grams, so the coffee will be costing them a good twice the price of ground coffee in a pack?
Nothing, in his view, can compete with the smell and taste of freshly ground coffee freshly brewed. Or the aroma and first sip of, say, a first-flush Darjeeling tea.
"So you can add another waste – a waste of money – to the damage to the environment from coffee capsules and tea bags," he commented.
"Let's discard the twin curse of tea bags and coffee capsules and enjoy a better-tasting brew," he said.