GINGER – LEMON – GREEN TEA. BOOST YOUR IMMUNSYSTEM!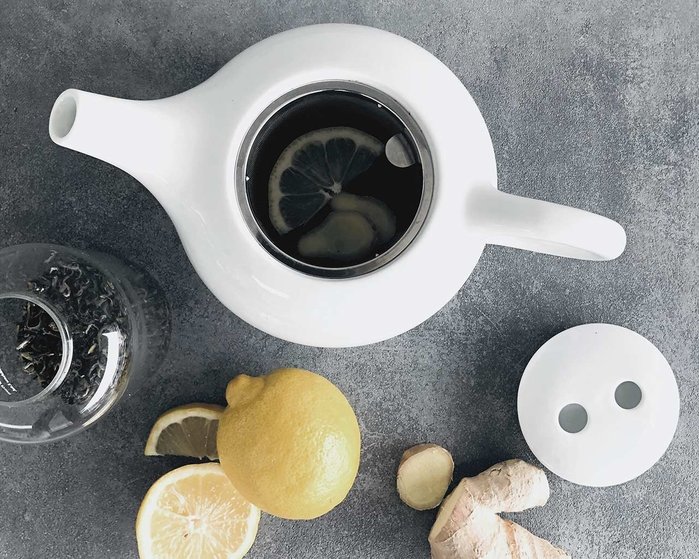 During lock down we debated the weekly purchases within the family. One question always has been, what does help to protect us? We drank lots of teas and swallowed Vitamin C pills from the pharmacy. But does it help or is there anything more natural and less expensive we could do in order to calm our nerves and boost our immune system?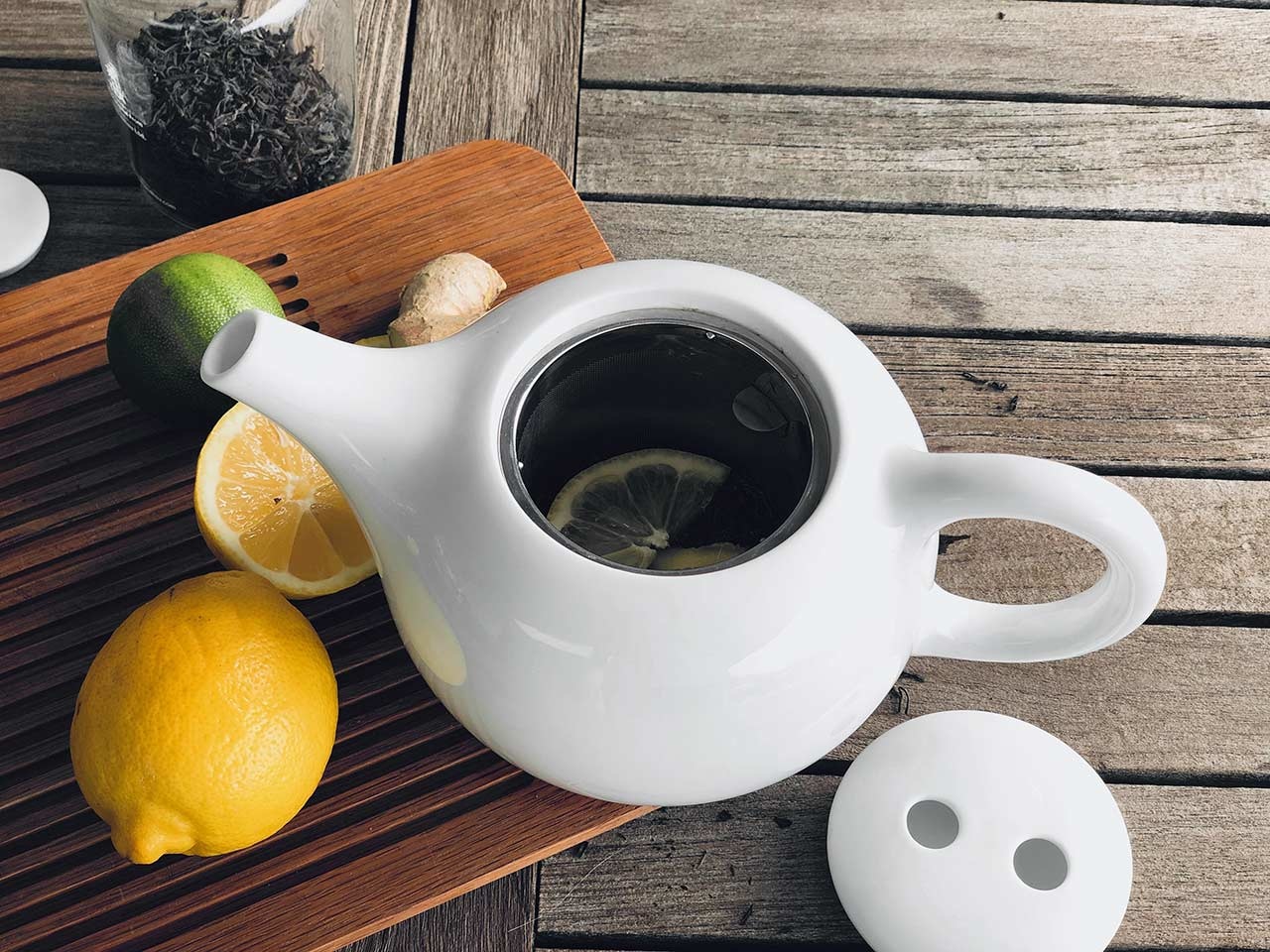 Many years ago I've read an interview with the former German foreign minister Hans Dietrich Genscher. He was well known for jetting through the whole world on a constant basis. As he was asked how he coped with the enormous stress, jet lag, work and pressure, his answer was easy: "First of all I'm capable of sleeping in any position if I get the small time window doing so and secondly, every day I'm drinking the juice of one freshly squeezed lemon."
If you consider Ginger, you'll read a lot about the positive things Ginger could do for your body. The German newspaper "Die Welt" listed the following:
Good for you in case you have a flew or cold
Its' good for your heart and blood circulation
For nice skin and hair
If you have diabetes
Against pain and inflammation
Against stomach pain
Quelle: DIE WELT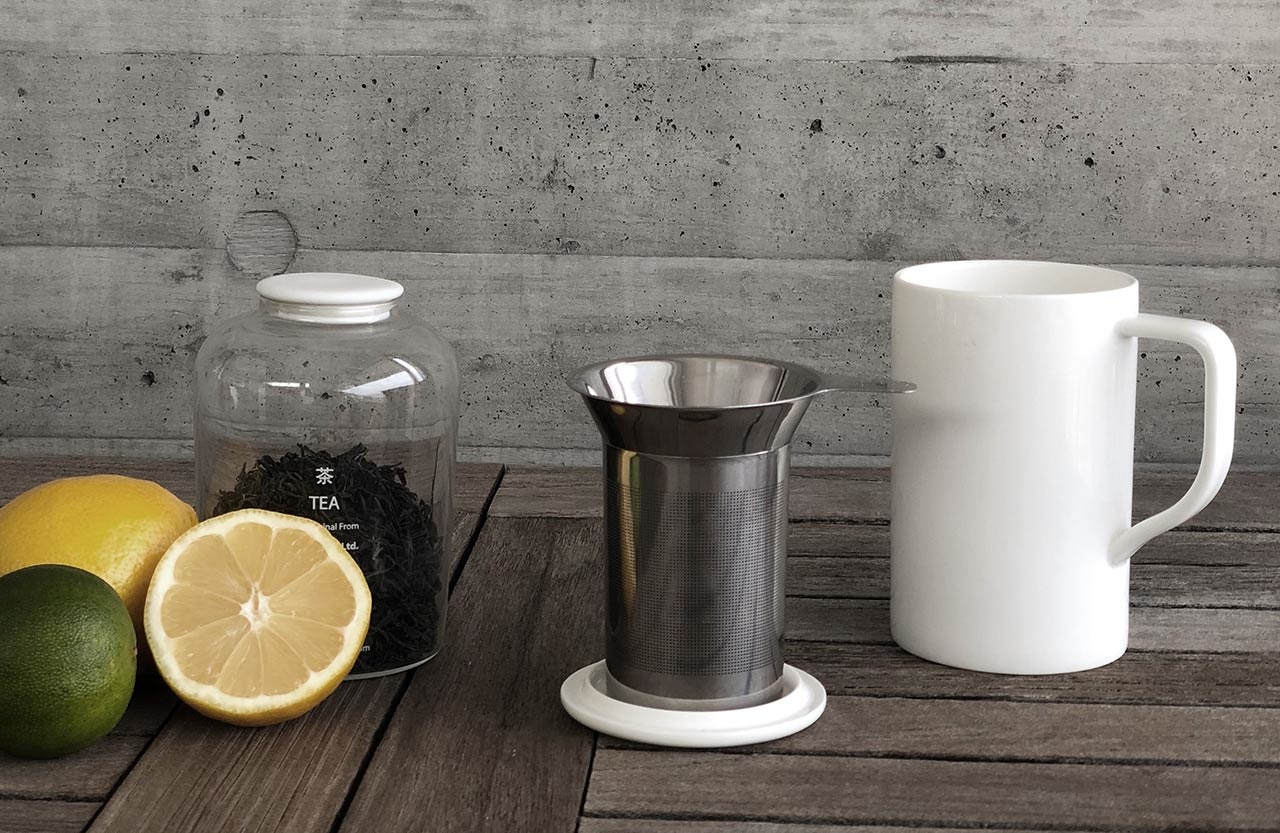 What did we learn about the good things in green tea? The German homepage "Das Tee Magazin" helped us on that. It's said; that the health benefits from the consummation of green tea is an established knowledge. But, what is interesting: the big advantage of drinking green tea is the enforcement of the immune system…so here we are, that was what we wanted to read and believe in…
Of course we are using one of our Carl Henkel Brewers teapots. All our teapots are using a high quality stainless steel filter. A small silicon ring to the lid attaches the filter, so the lid doesn't fall into your precious teacup. You might take out the filter after a while of infusion, but you could leave the filter inside the jug as well. Up to you.
How to make the correct tea or infusion? You might one of two options. Whether you are brewing the green tea and pour it in the cup onto the prepared and slices ginger and lemon or you brew all of that together. Meaning, you slice the ginger and lemons into very small tranches and put them together with the tea into the filter. Use boiling water and brew your Ginger-Lemon-Green tea. After 3-5 minutes (We prefer 5 minutes and use less tea) you are ready.
We have another great product for infusion. TIM is very handy as well in the office as he is at home. We call him Tim tea for one. It's a porcelain mug with a stainless steel strainer and a porcelain lid. You can use the lid for storing the filter after you have taken him out.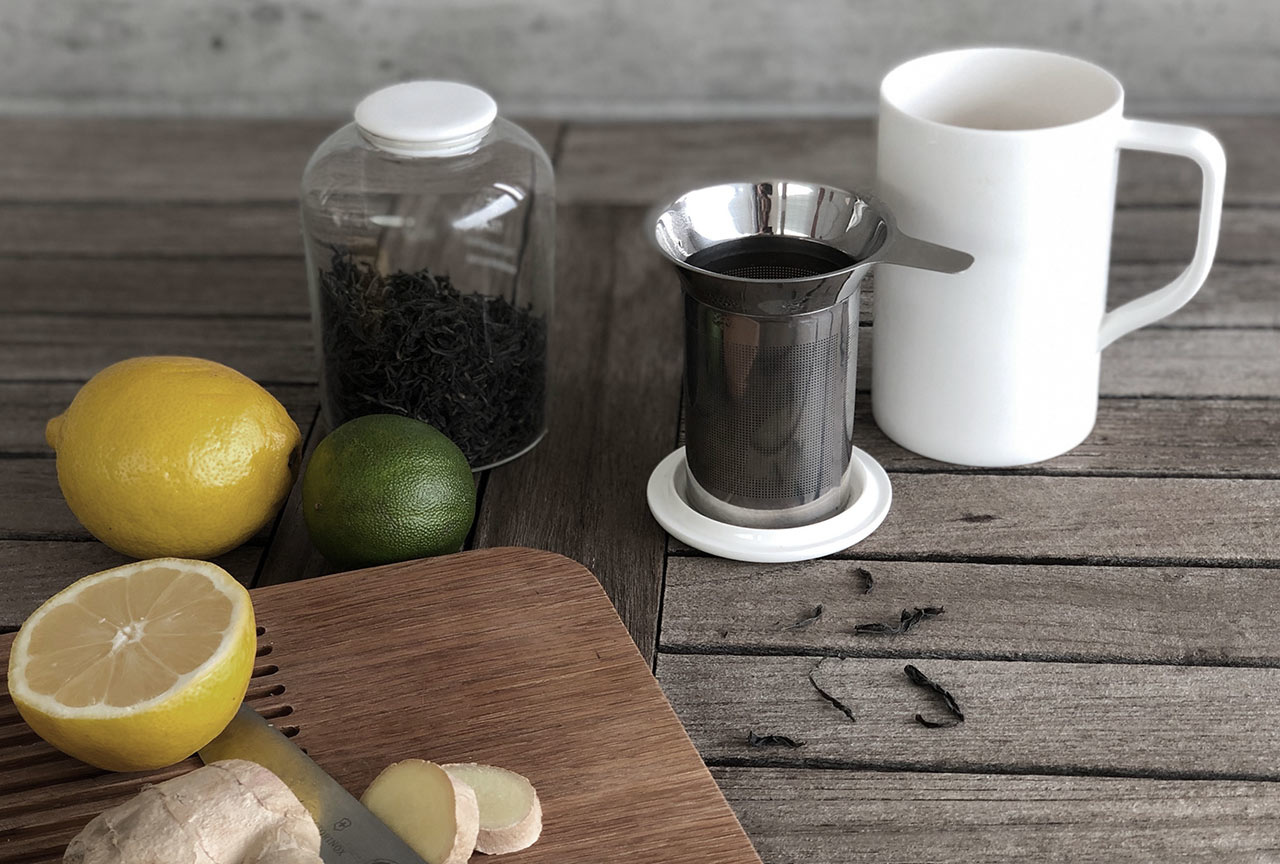 At Roberts Teehaus we found some great recipes and they were so generous to allow us to share the Ginger-Lemon-Green tea ideas. You can find the link to his homepage further down. We have recipes for Ginger-Lemon-Green icetea, -jam, -pesto and ice cream! Have fun and #stayhealthy!
Ginger-Lemon-Green ice tea
15g of green tea leaves
10g fresh cut ginger
one lemon
240ml mineral water
Use the green tea plus the ginger with 250ml of nearly boiling water and let it brew for 1-2 minutes. You might take some ice cubes into the jug, it cools down the tea quicker. Than you pour the tea together with the lemon juice and the mineral water in a high glass and add as many ice cubes as fit into. Some lemons for decoration and…enjoy.
Ginger-Lemon-Orange jam with green tea and dates
500g peeled oranges – put ½ an orange to the side
one small lemon
2 spoons of green tea which you brew in the brewer with 200ml of water
3 dates
1 bag of gelier fix
3 spoons of cane sugar
Get the orange and ½ of the lemon pureed in the mixer. Use the green tea, which you perfectly brewed with hot water (not boiling) and two minutes of resting time. The ½ of both the orange and the lemon needs to be sliced into very small pieces, the same for the three dates. We want the jam to get a nice and fluffy consistence. Now you stir the tea, the gelier fix and one spoon of cane sugar together into the fruit mass and let it boil slightly. Add the rest of the sugar into it and let it boil for around 3 minutes. Afterwards you put it in jam glasses, close the lids and turn them upside down. This should have given you 2-3 small jars of great ginger-lemon-orange jam with a nice green tea and dates flavour.
Ginger-Lemon-Basil pesto
1 cup of freshly brewed green tea
50ml white wine
2g fresh ginger
50g fresh basil
50g honey
2 lemon
100g pine or pistachio cores
1 avocado
Heat up the green tea, white win, ginger and basil, mixing it and putting it through a strainer. Take all things together for mixing. That's it!
Raw vegan green tea-lemon-ginger ice cream
500g banana
1 spoon of green tea
100ml water
1 lemon
5g ginger
The day before:
Cut the banana in small slice and put it into the deep fryer. First brewing the green tea in the brewer. Take out the green tea leaves after 3 minutes and pour it into a jug with the ginger and the lemon until it's cold. Please make sure, you don't have rests of pulp or tealeaves in the liquid. After filtering it again, you can freeze the green tea-ginger-lemon in ice cubes.
Preparation:
The frozen banana plus the ice cubes are getting pureed in the mixer until you have a creamy consistence. Serve in nice ice cream jars, decorated with mince leaves and some lemon peel.
Good luck! Enjoy.
You can buy our Carl Henkel tea-brewers here: https://www.carlhenkel.com/en/tea/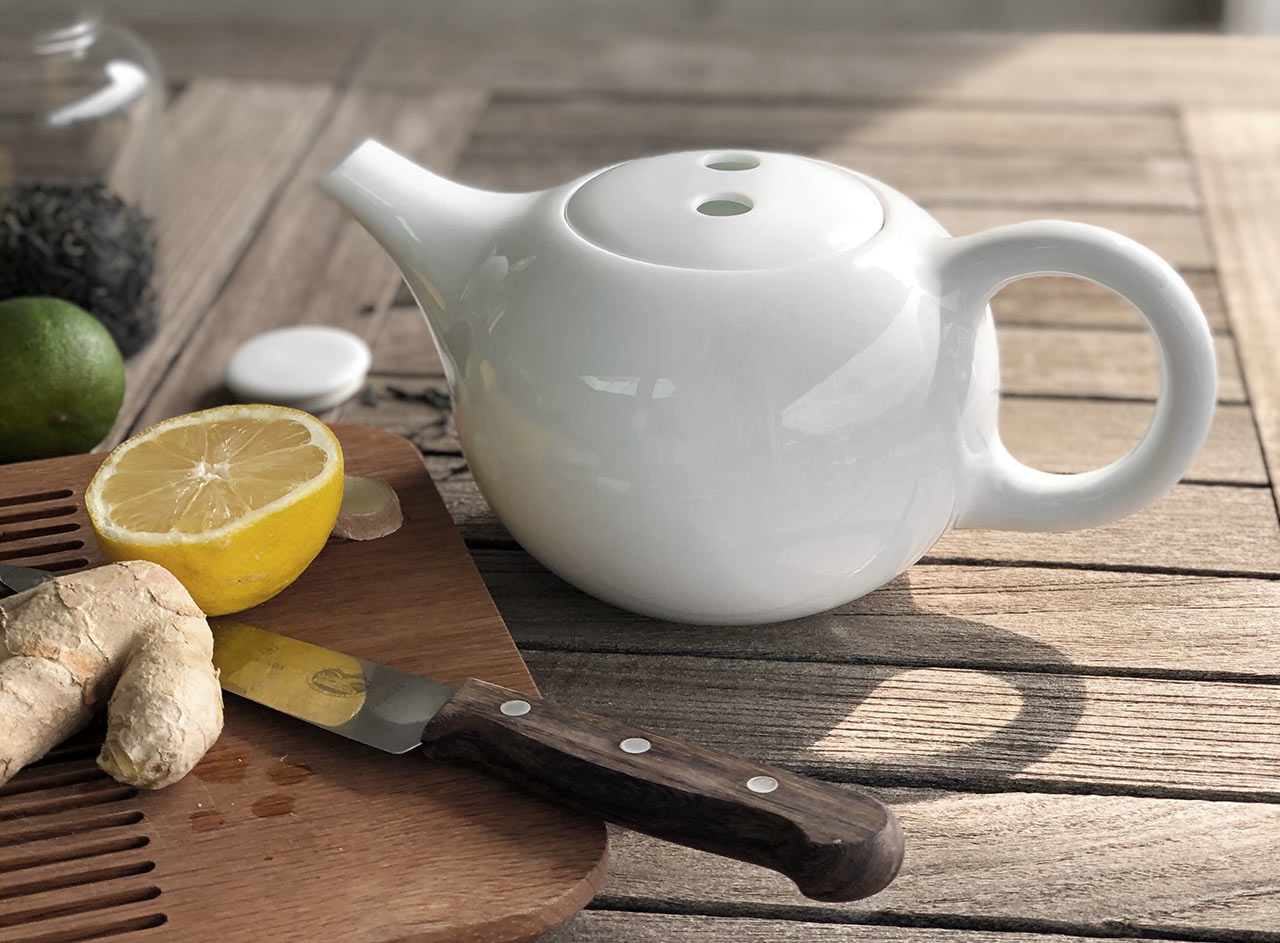 Links to German magazines where we found the recipes etc.
https://www.oekotest.de/gesundheit-medikamente/Coronavirus-So-koennen-Sie-Ihr-Immunsystem-staerken_11177_1.html
https://www.welt.de/kmpkt/article160632307/6-Gruende-warum-Ingwer-gut-fuer-unseren-Koerper-ist.html
https://www.das-tee-magazin.de/gruener-tee-staerkt-das-immunsysem/
https://www.roberts-teehaus.de/blog/gruener-tee-ingwer-zitrone-rezept
Robert Schyska, Roberts Teehaus, Lutherstr. 12, 09648 Mittweida, Deutschland 
Tel.: 0176 - 708 231 80, E-Mail: [email protected]
Be the first to comment...