I had it on my mind for a long time. Brewing Gin together with Coffee and having it poured on ice, which should be delicious. Google couldn't really help me, because people were mostly using Cold Brew Coffee. But what I wanted is the iced coffee, which could be prepared more instantly. Cold Brew Coffee is great, but has to be prepared in advance.
One thing right away, I started my Gin and Coffee experiment on a beautiful day on the balcony, but what I got has been a fantastic After Dinner Aperitif. The taste of the new ICED GIN COFFEE mix had been relatively strong for a lazy Sunday afternoon with above 30°C …
I found the following recipe for a Gin / Coldbrew mix on a blog that I mention further down. They have used 2cl Gin together with 8cl of Tonic Water and 4cl of Cold Brew Coffee. I'm not the recipe guy, I like mixing and trying, so I prepared my stuff: The Coffee Dribbler (no paper, only great coffee, but this is another story, which might be important for the clean taste, not spoiled by the taste of paper filters), a long spoon, a jar (the Coffee Dribbler could be used on nearly all jars, mugs, glasses or jugs), ICE – GIN – COFFEE.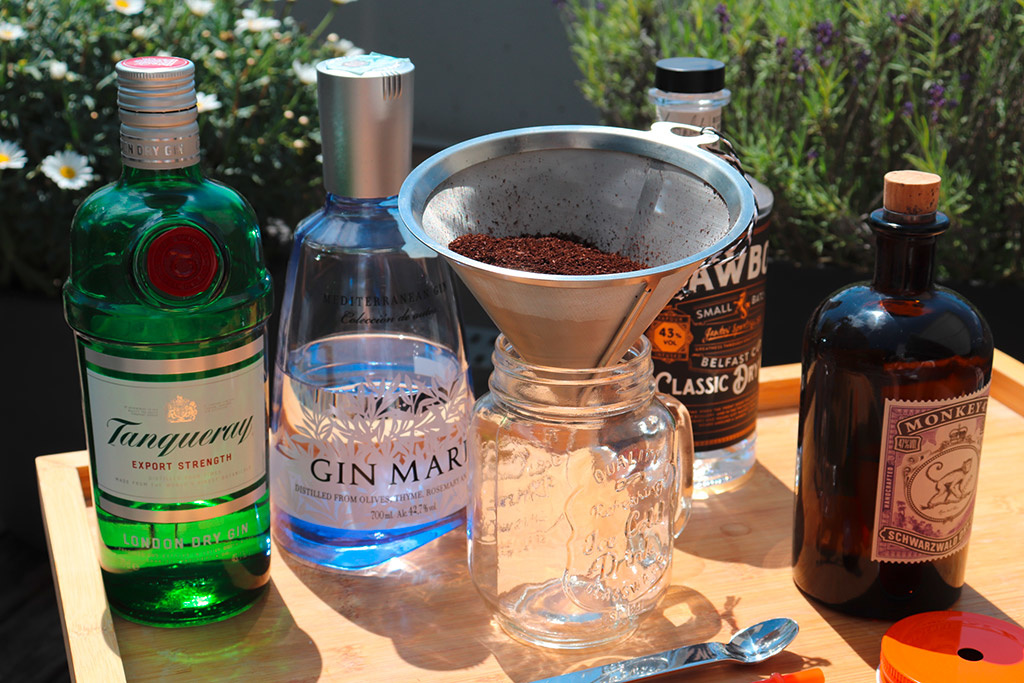 I'm using the jar with the lid, not really knowing why, no bigger thought in that. I put 30g of coarse grind coffee into the Coffee Dribbler and filled the jar half full of ice cubes.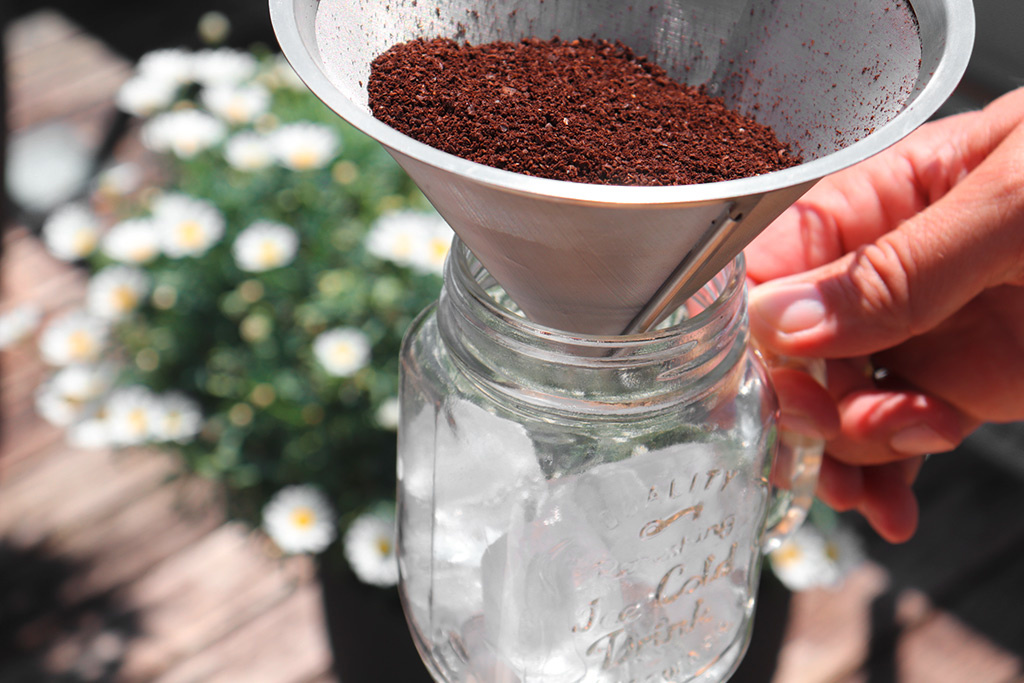 In the blog I'm mentioning from a German Gin aficionados I took their advice for taking a LONDON DRY GIN. In my home assortment I found the TANQUERAY for the very first ever-mixed ICED GIN COFFEE. Great, almost flying to the moon with Neil Armstrong and his crew in 1969. I'm an inventor :-).
The most serious part I had been curious about is "blooming the coffee" with the Gin. Meaning, blooming is necessary to give the coffee some time, around 20 – 30 seconds before actually brewing the coffee. My idea has been to use Gin for this and after the time elapsed to brew with hot water. The Gin and Coffee harmonized perfectly, the coffee is sucking the whole amount of Gin I was pouring. Probably I used too much Gin, but as well too much coffee for most taste buds. As said, I'm not the recipe guy and believe that for an After Dinner Brew it was great, but for early afternoon in the sun it had to be softer. So why not fumbling around with different measures? Must be fun for a nice group of friends gathering!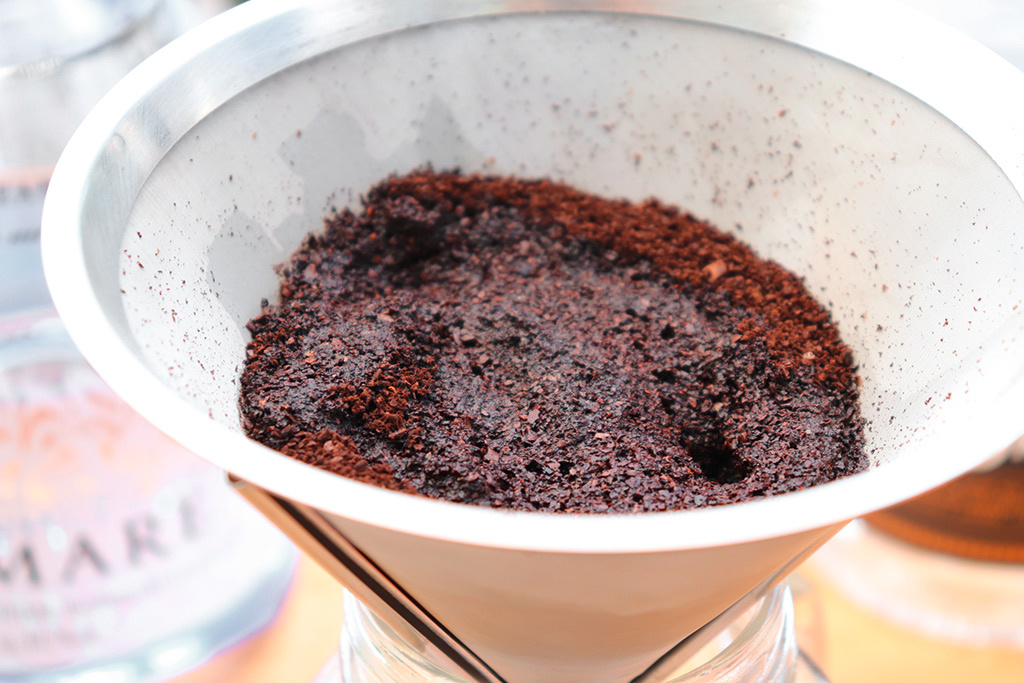 After we gave the new Gin / Coffee mix some time to become friends, we poured around 300ml of hot water into the Coffee Dribbler. The water has 92°C and the filter worked perfectly well. The dark brown Gin / Coffee spreads over the ice, melting it to become a wonderful coffee drink. It's a fabulous transformation – from ice to a beautiful dark icy drink in the jar.
My experiment was a great one. As said the ICED GIN COFFEE needs some sensitive alterations, catching the flavours and make it a drink for aperitif and leisure time. After Dinner is great, as both Gin and Coffee do their jobs to digest and to keep awake.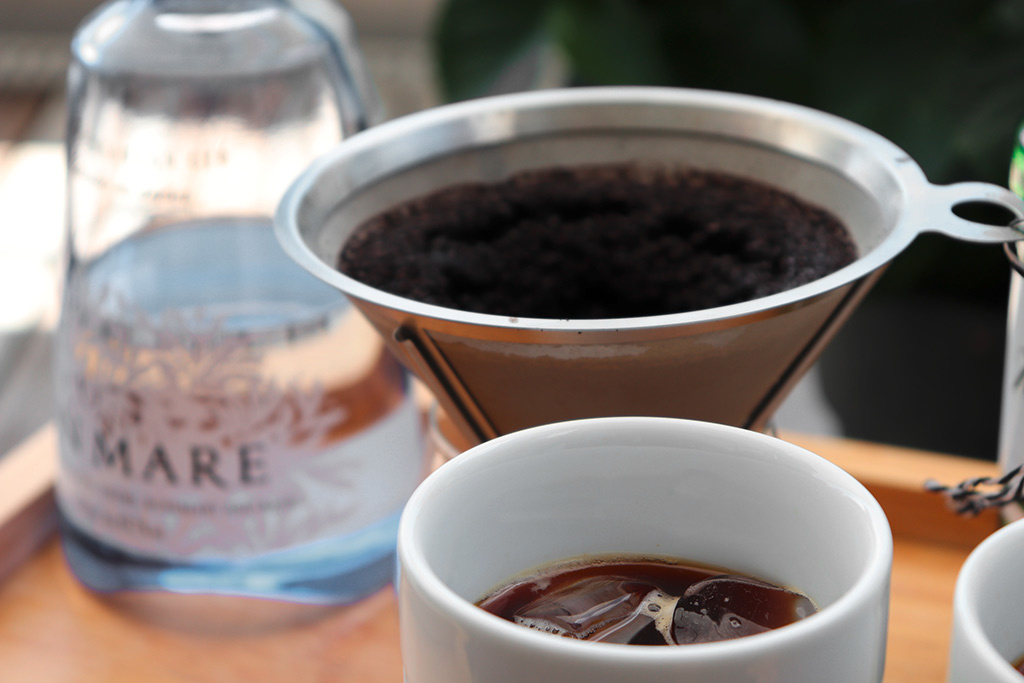 For serving we used the double wall porcelain mugs from the IONIC series with some additional ice cubes. It's incredible how long the ice cubes stay in these mugs. Coffee and porcelain is a combination I like a lot. I think it helps the flavours and the effect of keeping it cold without getting cold or even wet hands is very nice.
Please tell me your comments. As said, we need some specialists or fun people who continue on experimenting. I would suggest trying to mix with Tonic waters, different Gins and for sure more or less coffee and different coffee grinds of different coffees from all over the world.
Have fun! Looking forward to your comments.
Buy Coffee Dribbler here. 
Buy IONIC mugs here. 
Quellenangaben: https://www.gintlemen.com/gin-tonic-coffee/