ANYTHING BUT BORING - COFFEE MIXER WANTED. EXPERIMENTAL COFFEE.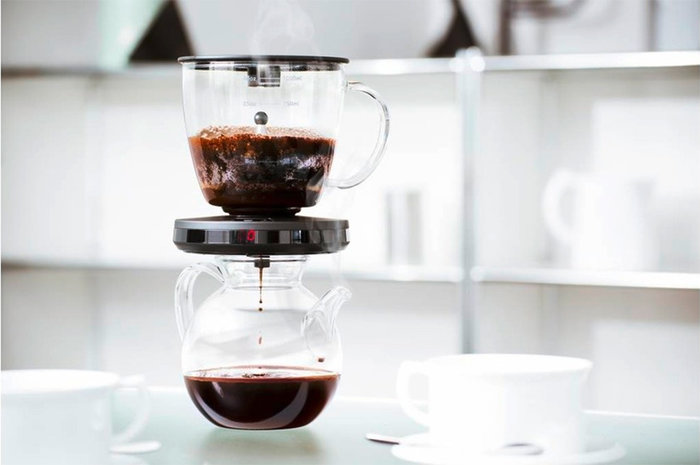 Coffee blends, iced coffee... it's anything but boring: COFFEE TaC
Looking for inspiration for a good coffee experience? Does your coffee always taste the same? Have you tried many types of coffee, but still want to experiment further with this divine gift of nature? Then you should try the COFFEE TaC.
The origin story of the COFFEE TaC is a short one: The designer George Fontana was asked to develop a tea maker for the Taiwanese trendy tea salon Smith&Hsu. This tea maker was to be designed such that it could be served to the guest at the table and one could see the tea unfurl in the water. After the tea has brewed for long enough, the guest can pour the tea themselves. A surprising show effect and an unconventional way to bring tea consumption closer to a young, trendy target group that is ready to leave the old paths of centuries-old tea ceremonies.
When Georg and his client James Hsu proudly presented the first prototype of Tea TaC to us, we, as fans of the good old hand-brewed coffee and filter coffee, were only too delighted to try out this exciting machine for making coffee as well. You can imagine what happened: The coffee tasted wonderful. Just like with tea, we let the coffee brew in the glass filter for 4 minutes. We were thrilled at how good the coffee tasted. So, the story took its course and the Coffee TaC with a special filter just for coffee was born.
Such round, smooth coffee! Very impressive!
But now, back to the experimental coffee freaks among us. What do you think about enhancing the flavour of the coffee with gin? If you don't like alcohol, how about some ginger, cocoa or other spices such as cinnamon? Blend your own coffee depending on your taste, mood, and the season. Oranges and cloves would work well too. But if you want to add some alcohol to your coffee, try some amaretto or a classic such as grappa or brandy.
You can also filter the COFFEE TaC into a big jug with ice cubes and make your own ICED COFFEE in summer.
The sky is the limit to your ideas and there are countless creative ways to enjoy coffee, in summer as well as in winter. Let it flow! It's anything but boring!
More about the product:
Be the first to comment...