SLOW COFFEE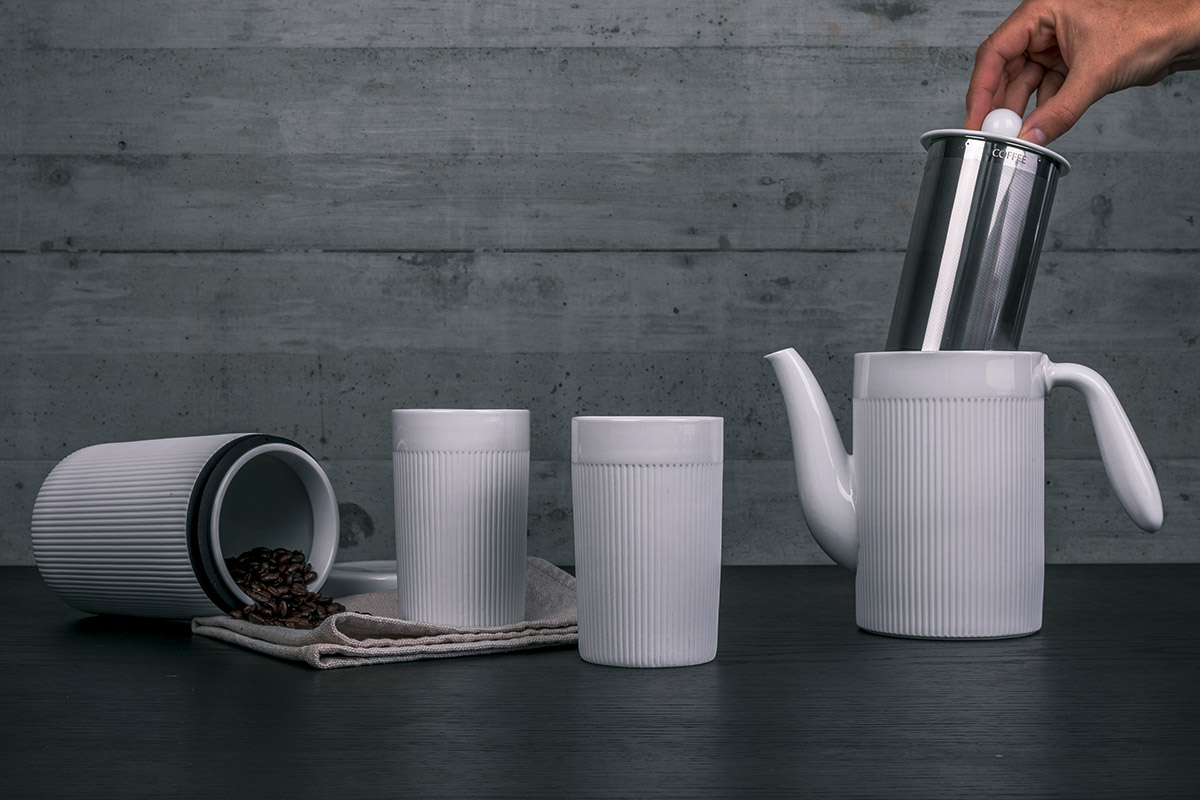 MAKE DELICIOUS, ECO-FRIENDLY COFFEE
Is the aroma of freshly ground coffee beans more than just a necessary morning routine for you? Do you want to stop using coffee capsules? Or have you been asking yourself why we even need to make such a fuss over making such a simple but wonderful beverage like coffee?

Why go to such ecologically devastating lengths? The best things in life are often simple, and this also goes for a cup of good coffee. Why not make coffee as we used to earlier? Nothing has changed. To make coffee, you only need the right grind of a good green coffee, boiling water (92°-95° if brewing by hand), and approx. 3 to 4 minutes, so that the aromas can unfold.
MAKE COFFEE WITHOUT PLASTIC OR PAPER

Brew your coffee without plastic, filter bags or contact with aluminium. Our reusable filters made of stainless steel last long, and coffee filters made of paper are no longer required. How you filter your coffee by hand depends on your taste or where you make it. We have several different coffee makers and methods for brewing coffee by hand.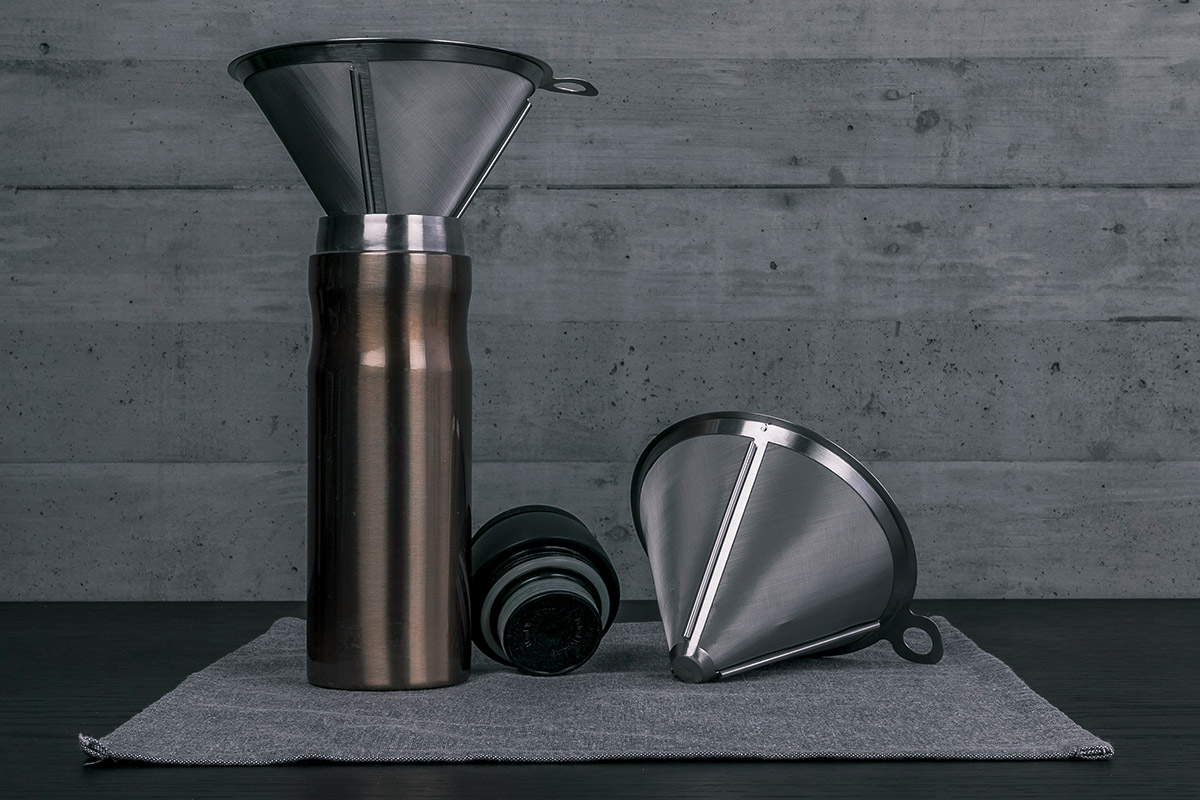 POUR OVER - TRADITIONAL COFFEE

Do you prefer the pour-over method, which brews traditional coffee, but in the reusable filter of the COFFEE DRIBBLER? This will give you excellent filter coffee, just how your grandmother used to make it. With no need for filter paper, this is the ideal tool for making coffee whether you're at home or outdoors

The designer Masato Yamamoto came up with this brilliantly simple idea. You can take the COFFEE DRIBBLER with you on your travels, it fits on almost all pots, jugs, coffee mugs and coffee-to-go cups. The spacers on the COFFEE DRIBBLER prevent the coffee from spilling out on the side, and the coffee flows from the tip of the reusable filter into the container. You can use it on your beautiful antique porcelain pot at home or even on a regular pot when you're camping. You'll definitely be able to find a jug in your holiday lodge that you can use as a coffee pot.

You can attach a strap to the handle to hang up the COFFEE DRIBBLER. We recommend cleaning it regularly so that the oils and fats from the coffee do not clog the pores. Stick your COFFEE DRIBBLER in the dishwasher and it'll be as good as new.  #nopaper #lessplastic


COFFEE INFUSION

Another method is coffee infusion, which works according to the same principle as making tea. Brewed coffee or filter coffee made according to the Slow Brew Coffee method, guarantees you unforgettable flavour and, at the same time, is gentle on the stomach. You can use the  IONIC COFFEE POT or the SOWDEN OSKAR SoftBrew to make coffee directly in the elegant porcelain pot. 


You have to experiment to get the perfect coffee. We will tell you how much coffee powder to use and what the degree of grinding should be, but we urge you to try out different roasts, quantities and degrees of grinding when using this brewing method. It's fascinating, we don't know of any other method of brewing coffee that produces so many different results. Be it a finely ground espresso from the supermarket or coarsely ground specialty coffee, the brewing pots always yield good coffee. 
One question is asked frequently: yes, we recommend leaving the filter in the pot and stirring the coffee with a spoon after pouring. We have carried out tests multiple times with coffee specialists, all of whom were impressed. The IONIC COFFEE POTS or SOWDEN COFFEE MAKER do not take up much space and look good kept outside in the open kitchen — it would be a pity to hide them in the cupboard.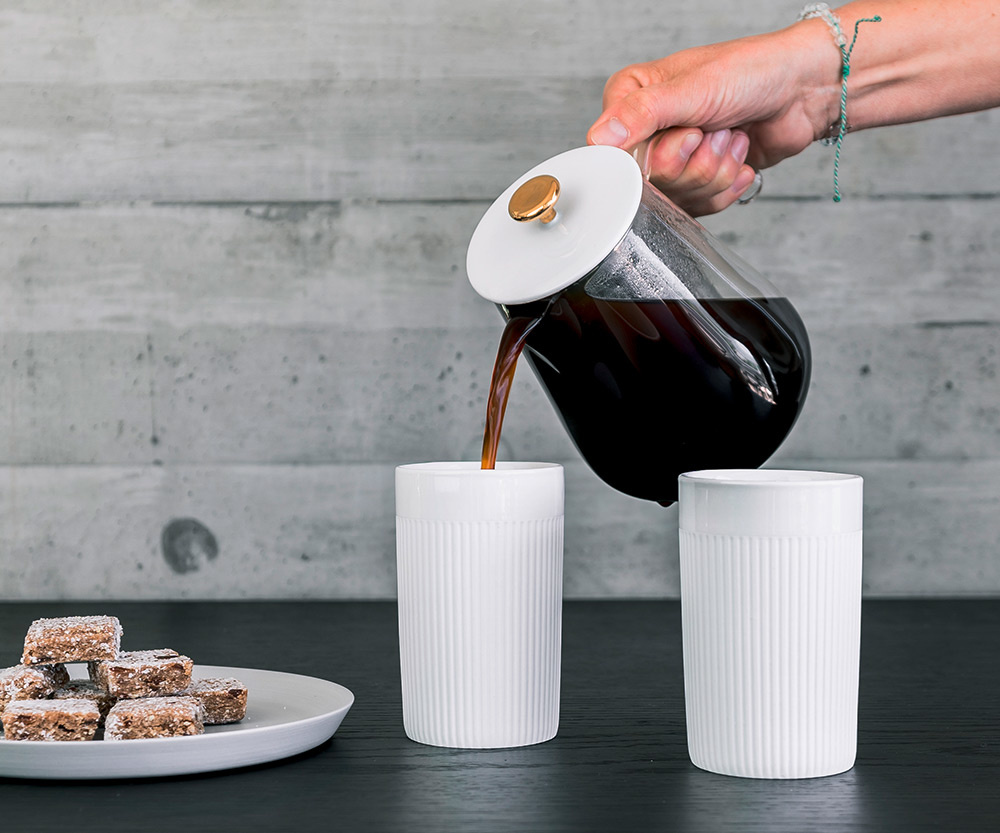 COLDBREW COFFEE - THE TRENDY COFFEE

Are you a fan of COLD BREW COFFEE? You can make this easily with the IONIC COFFEE POT or OSKAR COFFEE POT by George Sowden. Simply pour the coffee cold and let it brew overnight in the fridge. The following day, you will have an excellent COLD BREW COFFEE without having to buy another appliance — besides, most of them are made of plastic. We make our brewing pots without plastic or paper filters. The coffee does not come in contact with aluminium either, the usable filters are made of high-quality stainless steel and can be cleaned in the dishwasher or by hand right until the end. 


COFFEE TaC - AUTOMATIC HAND BREWING

Thanks to the inbuilt timer, the coffee is brewed fresh in the COFFEE TaC. The taste is extraordinarily "well-rounded and harmonious". Admittedly, this appliance is not exactly meant for everyday use, but it still makes excellent coffee and can be used for all sorts of hot and cold coffee recipes.
Coffee TaC
is probably the only coffee appliance in the world with an inbuilt timer. You can set the clock for up to 30 minutes. We normally set the brewing time to 4-5 minutes and use it for normal filter coffee. You can also give your coffee extra flavour by adding syrup, gin or the like. One good idea is to let the coffee run on ice to get the perfect iced coffee.


Ice Brew Coffee - ICE_COLD REFRESHMENT

The Ice Brew Coffee is a refreshing, cooling drink for hot summer days, and has a mild and fruity flavour. We're sure you also have other ideas for experimenting with your coffee-loving friends. Coffee is a wonderful drink, whether hot or cold.
The Coffee TaC can be used on all jugs with a flat, straight rim. You have to make sure that the Coffee TaC is standing upright and stable and there are no children or animals nearby. The Coffee TaC is fitted with non-slip silicone under the base. The Coffee TaC is not only meant for making fancy coffees with recipes; once you get used to it a bit, you will find that it works just as well for making your daily coffee too. A real coffee treat for experimental coffee lovers.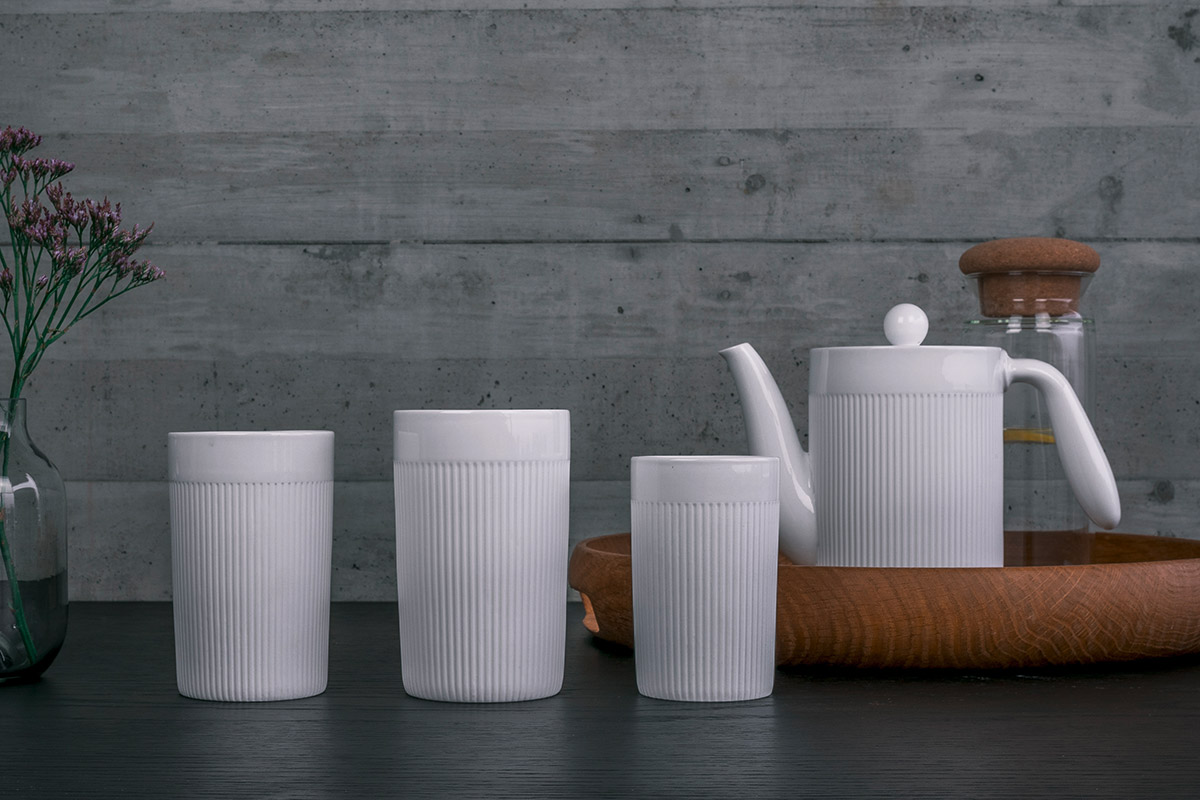 THIRD WAVE COFFEE - FOR (AMATEUR)BARISTAS AND PEOPLE WHO ARE ENVIRONMENTALLY CONSCIOUS

The third wave coffee movement stands for a true culinary appreciation of coffee right from the roasting to preparing it. The different types of coffee are just as multi-faceted as thecoffee lovers themselves — everybody has their ownfavourite coffee appliance.

First of all, many people have realised that coffee brewed by hand tastes much better and is also lighter than machine coffee from a capsule or a vending machine. This trend or a revival of traditional methods has arisen out of a desire for a better coffee experience. Now we can take a step further and also include our health and the protection of the environment in our coffee-making adventures. Our main aim when developing our products is to make sustainable coffee with exceptionally good flavour. We don't understand why making coffee with technical appliances has become more and more complex. Using these appliances is counterproductive because they make for an ideal breeding ground for germs and bacteria. An entire substantiated, well-researched article could be written on how coffee machines are contaminated with bacteria.
In Germany alone, we drink an average of 0.5 litres of coffee per day, which is equivalent to 6.4 kilograms of green coffee. This puts German coffee drinkers in 6th place in the world. It is not for nothing that the question of making healthy, environmentally friendly coffee is a hotly debated topic.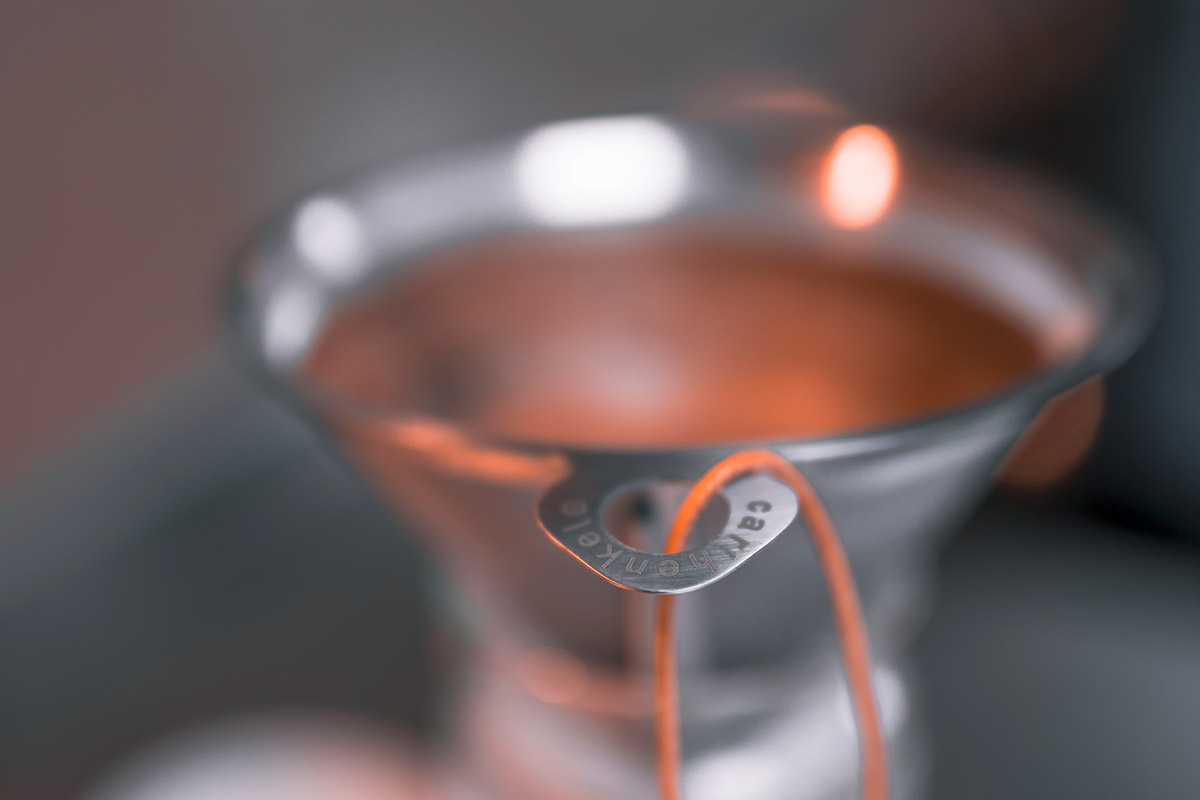 SUSTAINABLE COFFEE - #zerowaste

Sustainable coffee made with zero waste coffee makers  makes things easy for you without your having to give up anything. Coffee filters made without paper or plastic, and without coming in contact with aluminium are not only good for the environment. Can you imagine how many trees are felled every year to produce paper filters for coffee? How much energy it takes to clear, transport, process and sell paper filters for coffee? Soon, you will no longer be buying coffee filters either...


PLASTIC DOES NOT GO WELL WITH COFFEE...
Anybody who has been reading this so far has already addressed the topic of plastics and its effect on our planet. But plastic also has a negative effect on health when used in making coffee. However, not a lot of research has been done on this subject. What happens when plastic filters or capsules are heated? How do the plasticisers in plastic react to hot water at 100°C? Is this related to the reduction of sperm quality and quantity in men? What other effects does the use of plastics have when brewing coffee?
... AND ALUMINIUM DOES NOT EITHER
The same goes for the use of aluminium. It is not only the Italian stove-top moka pots in which coffee comes in contact with aluminium. Aluminium is also used making coffee using coffee capsules and heated at high temperatures.
The brew groups in espresso machines often have an aluminium head. Of course, aluminium is not only used in making coffee. Butter, salmon and wraps are also packed in aluminium foils, and nobody can say for sure whether the cause of Alzheimer's or other diseases can be traced back to the use of aluminium. 

Coffee pods are just one of many products. However, when it comes to making coffee, it is very easy to change this daily routine. And, in fact, instead of getting bad quality coffee, your coffee will taste as heavenly as it did when your grandmother used to make it. Besides, you will get used to it in a week and won't even remember why you weren't more environmentally conscious. You can also save space in the kitchen.
MAKE DELICIOUS, ECO-FRIENDLY AND ZERO-WASTE COFFEE

We are passionate about issues concerning sustainability in making coffee and have already collected many reports on this. Some are pros and others are cons when it comes to the use of plastic, aluminium and furan in making coffee. We are well aware that we are entering dangerous ground by addressing this subject, and would like to discuss and share some good sources in our blog posts. We also wish to learn more and create awareness about sustainability in the coffee community and among coffee lovers.


As mentioned earlier, we cannot understand how a plastic device like the Aeropress can become a trend in our time and how there are competitions at the Speciality Coffee Association (SCA)for this anachronistic coffee press. Even if the end result is good, nobody can say for sure at the moment that plastic does not release any residues into the coffee. What is certain is that, according to the latest findings, everyone already has some amount of plastic in their body.
But we are strongly against using coffee pads, coffee pods and coffee capsules too. We will gladly admit, however, that we still enjoy an espresso or a cappuccino in a good espresso bar.
It is so inexpensive and simple to use! You can make the switch today. Stylish and surprisingly simple, your coffee will give you real pleasure. Besides: Caffeine increases the level of the hormone serotonin, which is responsible for happiness, in the blood. This, in turn, boosts the autonomic nervous system, making you feel fit and invincible ...
#nopaper #lessplastic