Porcelain coffee maker with double special stainless steel filter for perfect, hand-filtered coffee without filter bag. Saves money and does good for the environment. Porcelain lid with silicone ring. Natural filter coffee - without paper, without pressur
Delivery time
1-3 workdays
IONIC X-TRACT BREW
Slow Coffee made easy!

The "infusion method" gives you a simple, very smooth and mild coffee. Without filter paper, without pressure at a water temperature, coffee quantity and grinding degree determined by you. Distinctly varied just like people's tastes. Served at the table without removing the filter. The coffee remains hot and tasty, ready for style-conscious coffee lovers.


Slow Brew at it`s best!
IONIC X-TRACT BREW - The porcelain coffee brewing pot with a double special filter. The outer part of the filter is made of stainless steel, the fine holes are made with a laser, and there is an additional, fine filter sieve with meshes inside. This combination ensures excellent filter coffee, made and served in the pot. Without "squeezing" the coffee, as is the case when using a traditional French press. You do not need any filter paper as with the usual hand filter. There is no waste generated, only compost from coffee. A mild coffee for the stomach and the environment.

The porcelain lid with silicone ring holds the filter in place when the lid is lifted out. We recommend you to leave the coffee in the filter in the pot. In tests, the "infusion system" — making coffee in a similar way as tea — has received very good service life ratings. The coffee does not become bitter and the porcelain keeps the coffee hot for longer. After approx. 3-4 minutes, the coffee aromas are dissolved and the coffee is ready.
Practical and easy to use, even when washing. All parts can be put in the dishwasher.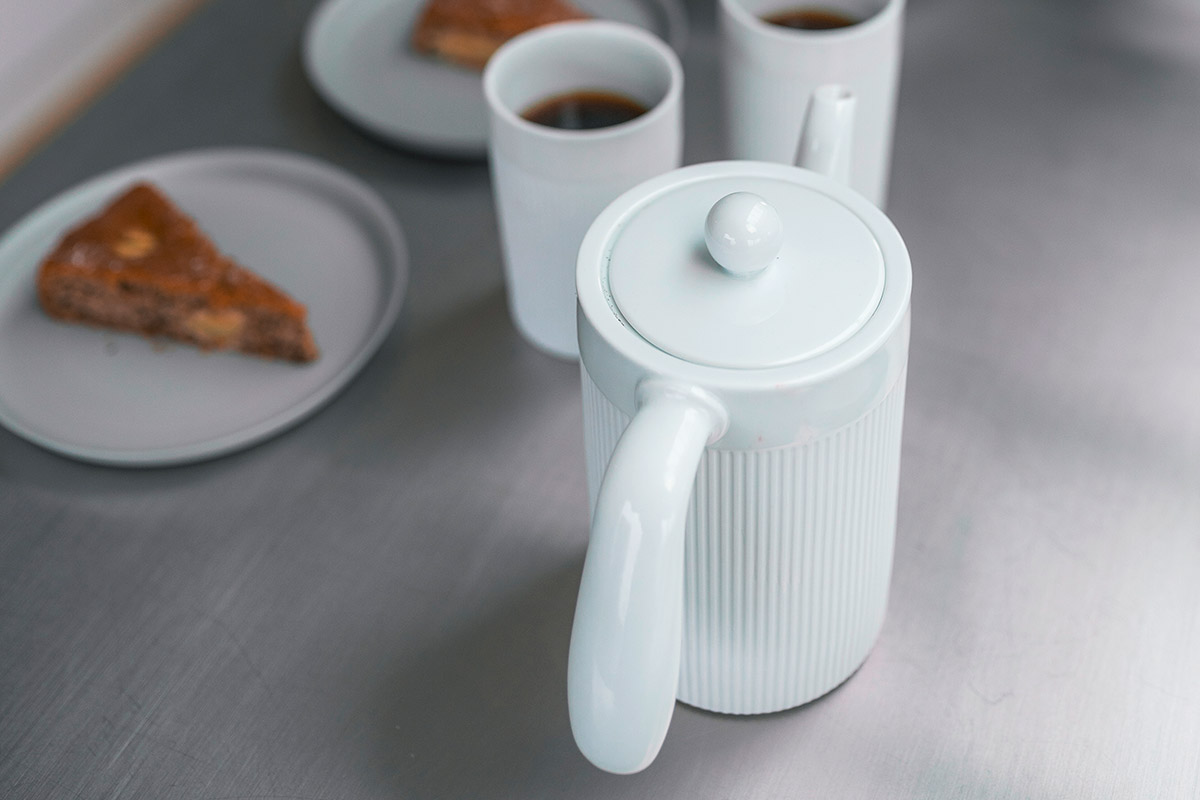 Cold Brew for coffee lovers - with no filter paper!
The IONIC X-TRACT BREW is also recommended for making cold coffee. Simply pour the coffee cold in the pot and leave in the fridge for approx. 12 hours. A cold brew for coffee lovers. Of course, you can also make iced coffee.
The traditional coffee is perfect for brunch, breakfast or cake in the afternoon. The coffee brewing method of those who appreciate a good cup of coffee, a milky coffee or a bowl.
You don't need filter paper!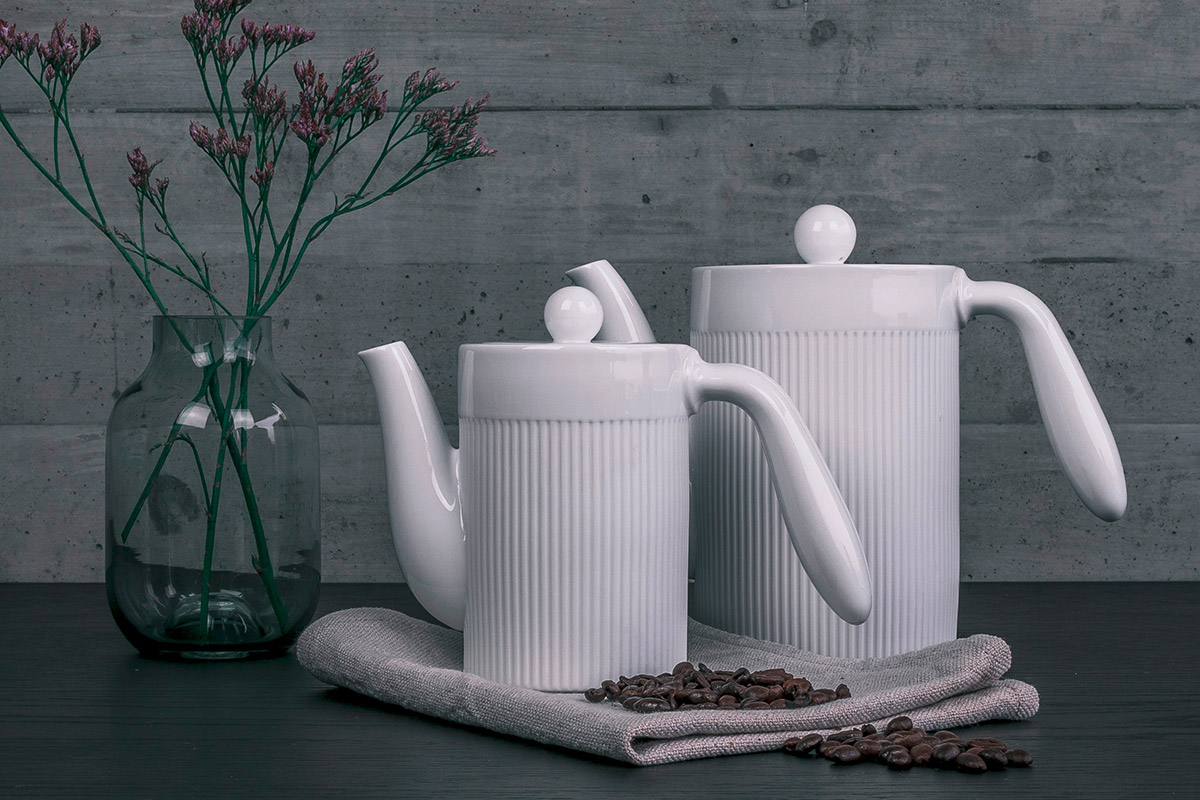 The IONIC X-TRACT BREW is available in 2 sizes in white porcelain:
0.5 litres for approx. 2-3 cups, Ø 85 mm, height 186 mm, length 146 mm

and 

1.0 litres for approx. 6-8 cups, Ø 107 mm, height 220 mm, length 185 mm
Download instruction manual
We recommend that you use your IONIC X-TRACT BREW as follows: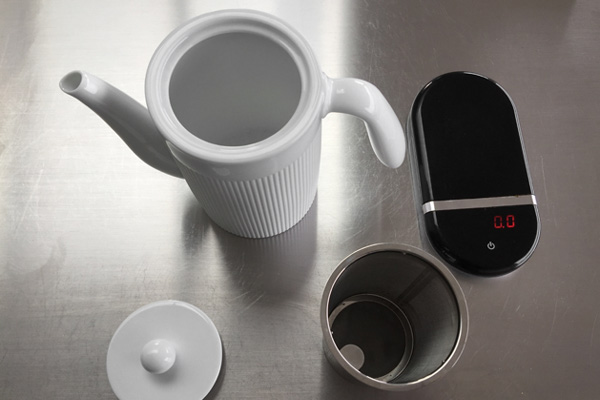 For good coffee, you need water at 92°-94° C, preferably fresh coffee, your IONIC X-TRACT BREW, a spoon to stir and possibly a weighing scale — or you can measure the coffee with a spoon.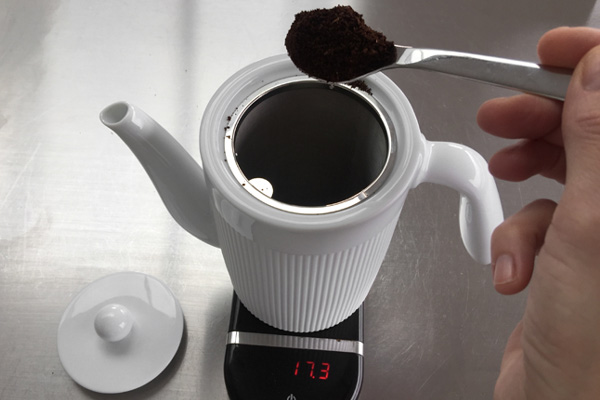 When making the "infusion coffee", you can try out different degrees of grind and coffee quantities. Depending on your taste, mood or the time of day. Just experiment a little. In the beginning, you should use medium to coarsely ground coffee powder. Approx. 6 - 8g per cup — one coffee spoon is approx. 3 - 4g. We have found out for ourselves, depending on the type of coffee and grind, you need about 30 - 45g of coffee. If you use finely ground coffee, you will need less than with coarsely ground coffee powder. Try it out.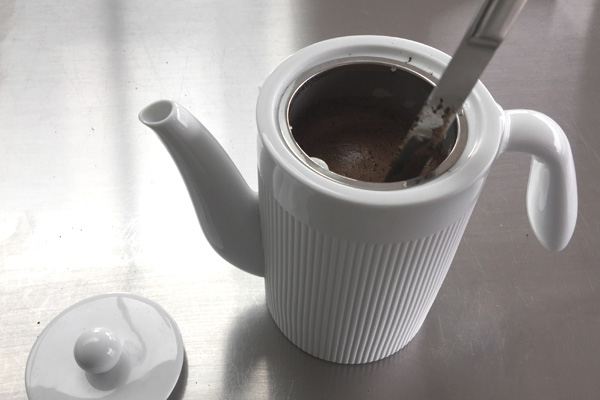 Put the coffee powder in the filter in the porcelain pot and pour hot water over it. Depending on the type of coffee, it may foam a little. By stirring with a long spoon, the gases escape faster and you can brew the coffee in 2 - 3 strokes.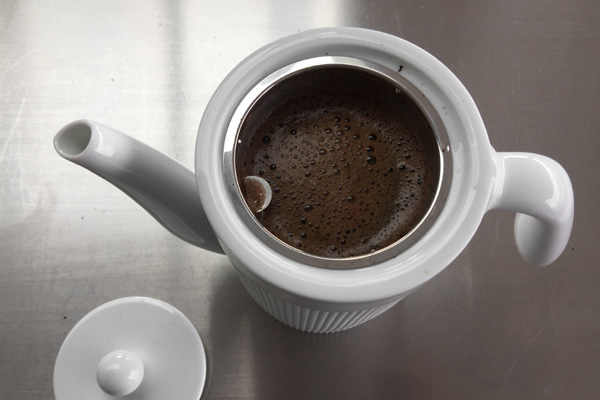 Now put the lid on it and let the coffee brew for about 3-4 minutes. You can leave the filter in the pot and serve it. Done. Cleaning the IONIC X-TRACT BREW is just as practical and simple as making the coffee in it. Tap out the coffee from the filter and rinse the filter under clear water. All parts can be washed in the dishwasher.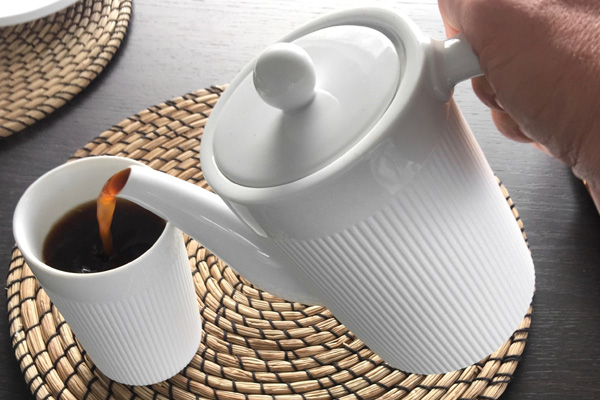 Now you are one of the Slow Coffee drinkers. You may have to experiment a bit to get the perfect coffee. With this method, the degree of grinding, the quantity and the quality of the coffee greatly influence the result. Have fun!
Delivery WITHOUT accessories - you will receive a pot with a stainless steel filter and lid.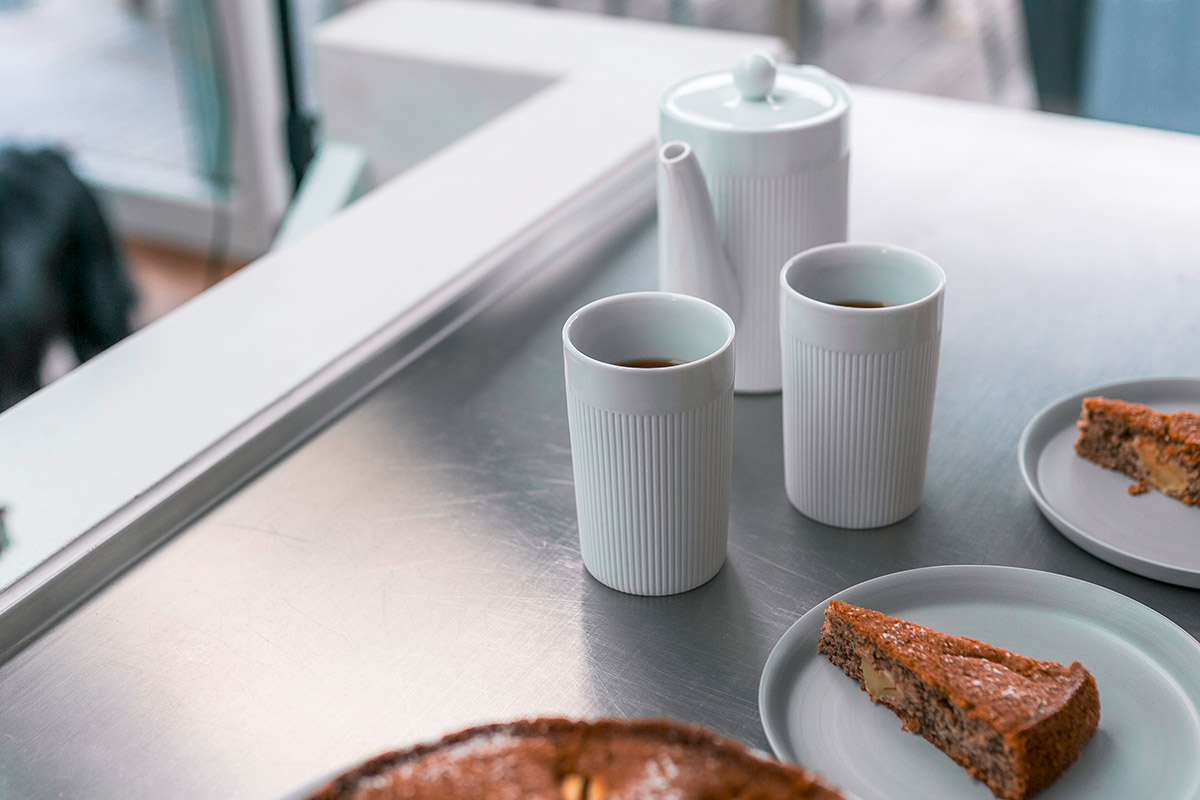 5

stars based on

2

reviews

Ich kann mich der positiven Kritik nur anschließen. Habe den Kaffeebereiter nun schon über ein Jahr und noch immer funktioniert alles einwandfrei und der Kaffee schmeckt sehr gut. Einer der wenigen der ganz ohne Kunststoff auskommt. Dazu noch das gelungene Design - mehr kann man sich nicht wünschen!
Nadine Neubauer
22-06-2021

Ich habe die IONIC schon vor ein paar Wochen erstanden und bin unglaublich begeistert: Nicht nur, dass sie so einen schönen cleanen, nordischen Look hat und das Prozellan sich unglaublich wertig anfühlt, mein Kaffee, den ich nun tagtäglich mit der IONIC zubereite, war (kein Scherz) noch nie so lecker. Ich habe keinen lästigen Kunststoff-Beigeschmack oder Bitterstoffe mehr in der Kaffeetasse, sondern nur noch einen wirklich aromatischen Kaffee. So muss ein Kaffeezubereiter sein: platzsparend, simple und doch schön anzusehen und vor allem funktional!!!
5

stars based on

2

reviews