Carl Henkel Brewers
Carl Henkel Brewers - COFFEE & TEA with a soul.

A young company with a family tradition, that's us: Carl Henkel GmbH.
My great-grandfather, Carl Henkel, started his eponymous company in Korbach, in the northern part if Germany, back in 1903. It exists even today and is run by my brother Harald and his family. We had no desire to deny our origins. Rather, we feel a connection with the family tradition and its values.
My family and I have been living and working in Lucerne, Switzerland, since 1999. We are located at the centre of Europe, which is ideal for us for maintaining contact with our customers. The goods are shipped from Germany — our warehouse is in Braunschweig, located centrally in the middle of Germany.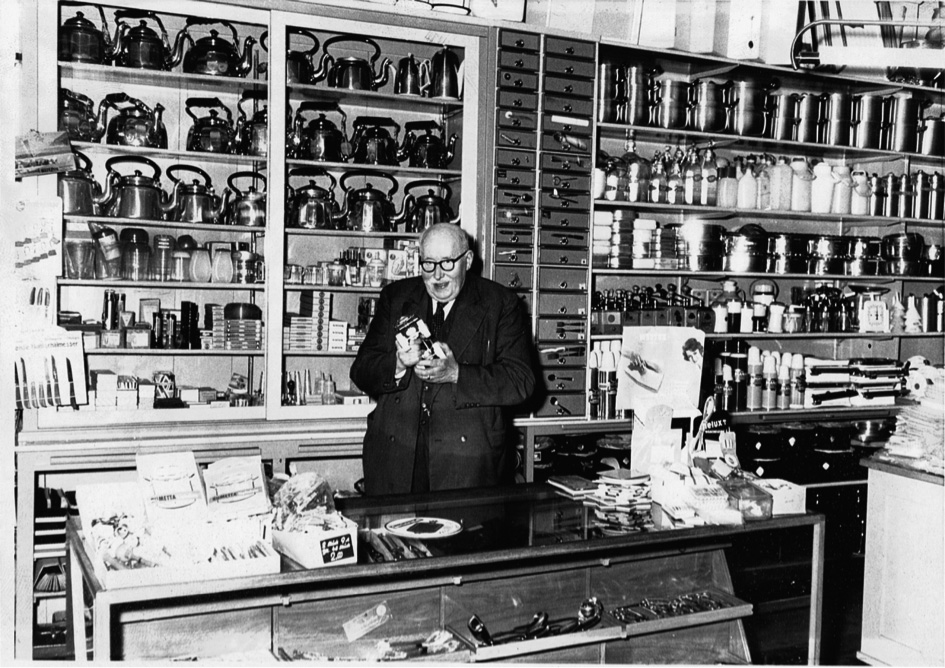 Great-grandfather Carl Henkel in his shop in Korbach
For our brand carlhenkel, everything revolves around coffee and tea, especially products for the preparation of coffee and tea according to the "Slow Coffee, Slow Food, Slow Tea - Slow Living Principle"… Hand-filtered and simple filter systems, sustainable  and without waste products such as filter bags and zero waste coffee and tea.
OUR TAG LINE: "Coffee & Tea with a soul"

Original taste, varied aromas, but closely linked to a sense of responsibility towards each individual cup of coffee or tea.

1.5 million trees have to be felled for producing the wood pulp for filter bags!!! But why do we still need filter bags? We, like many specialists, disagree with those who argue that they create a better taste. What do plastic appliances and filter paper have to do with Coffee Contest tasting competitions?
Plastic and boiling water are harmful to health and the environment, as are aluminium or plastic capsules. Good old filter coffee is by far the best option for preserving the environment, and the taste is not adulterated by foreign additives. All you need is good, fresh coffee and hot water.
"We love coffee and tea" - NO COMPROMISES!

The zero waste coffee makers and functional teapots for brewing loose tea are the main products in our carlhenkel range. We would like to encourage you to live sustainably and, in particular, prepare healthy coffee or tea in an environmentally friendly manner.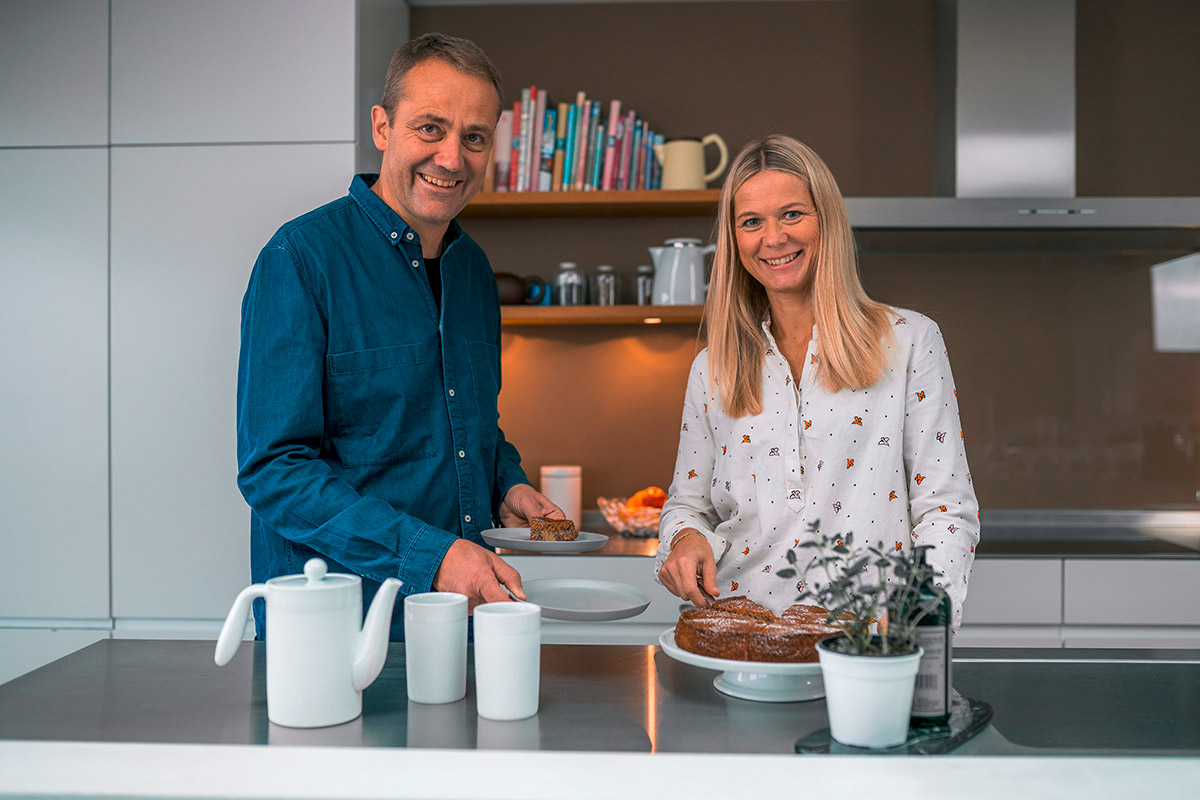 Karl Jürgen Henkel                                     Kirsten Henkel
Our company was founded in 2010. Carl Henkel GmbH worked as a commercial agent for various furniture and design brands in the following years. We were also responsible for the sales of Design House Stockholm, Normann Copenhagen, Arco Holland and Piure in Munich.
George Sowden and Sowden SoftBrew

We have always wanted to deal in sensible products like ours. We always enjoyed working with the manufacturers and designers. George Sowden had developed a coffee maker with a permanent filter. George Sowden is a star in the world of design and art. His partner Nathalie du Pasquier and he were co-founders of the legendary Memphis Group started by Ettore Sottsass. In recent years, Memphis products have become very popular once again, especially after it became known that the estate of David Bowie's assets included numerous unique works by individual artists of the Memphis Group. David Bowie had furnished his private rooms with Memphis furniture. We have a close, friendly relationship with George Sowden and the Sowden Oskar SoftBrewwas developed by us together.
A whole range of "housewares" followed, and Carl Henkel GmbH was the sole exclusive partner for Europe. The first trade fairs were exciting and the reactions of customers and the press were wonderful. Some other Sowden coffee makers followed the Oskar SoftBrew, one is named after our son "Jakob" and was initially produced as SoftBrew Coffee and SoftBrew Tea with a wooden lid. We later concentrated on the Original Sowden Oskar coffee pot in porcelain with a porcelain lid. In white, the coffee pot goes perfectly with every household and is therefore more sustainable, because colours are often more fast moving and you might regret buying a pot in another colour.
We did not accept the switch to plastic lids either as we had developed an aversion to plastic early on. The Sowden Jakob SoftBrew made with plastic is sold today by Hay in Denmark and Starbucks. While there are always some differences when it comes to such processes, we still maintain a friendly relationship with George Sowden and his team. The Sowden Oskar coffee maker still has the nicest design and is, in our opinion, the best product in the Sowden coffee maker and Sowden Tea Collection and shall always be the original one.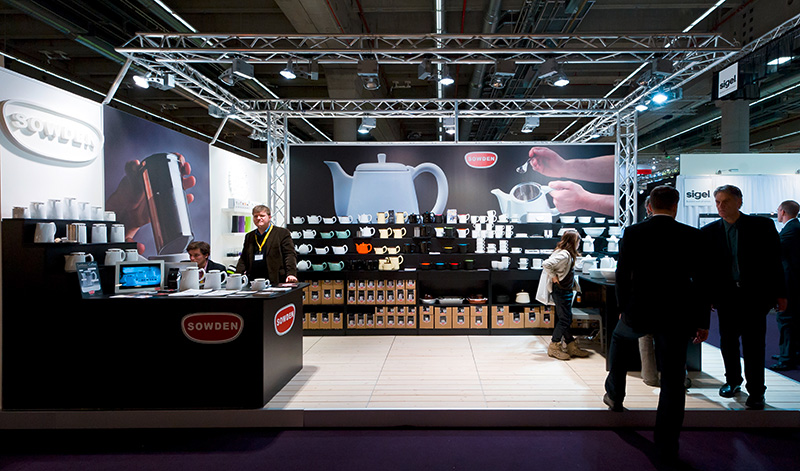 George Sowden (far right) at Messe Frankfurt
New and improved - the IONIC Coffee maker with a double filter

We learned a lot from the Sowden coffee pot and developed a new porcelain pot for brewing coffee with the Victor&Victoria design team.
The IONIC series is in line with our taste and even comes with a double filter in the coffee makers in excellent porcelain quality. The spout is located at the bottom and ensures better mixing of the coffee. This guarantees the perfect coffee right from the first cup. Since the simple (and cheaper) spout is at the top of the coffee pot, you have to stir well, otherwise the first cup of coffee might be a bit watery. The accessories are also very nice and we are looking forward to expanding this range in the future. Maybe we'll even make them in different colours someday. But without plastic or aluminium. Our aim is to make coffee without filter paper.
Masato Yamamoto and the COFFEE DRIBBLER

Masato Yamamoto worked as a designer for Bodum for many years. He was responsible for making many designs but unfortunately, his name is not mentioned. He designed the double-walled glassesa number of coffee makers (French press and the electric Santos - first generation), teapots, and also other products such as pepper mills, etc. He also designed crockery. He is an expert in porcelain and, due to his many years of experience, also in coffee makers, although, being Japanese, he is anardent tea connoisseur and tea person.
Together, we came up with the idea of launching an outdoor coffee maker, or more precisely, the perfect travel filter coffee. Masato was insistent on doing away with paper filters at all costs. Not only because one tries to carry as few utensils and weight as possible for making coffee when camping, but primarily because Masato is a true environmental activist. The Coffee Dribblerwas his idea. Brewing coffee by hand is not a new concept, and neither is a reusable coffee filter, but the side braces in the Coffee Dribbler make it possible to use the coffee filter on various kinds of jugs or cups.
The opening of the container must be at least 6 cm in diameter and as straight as possible. So, if you want to make coffee outdoors, on a boat, when camping or in a holiday lodge, you don't need an extra jug or filter paper. A cup or a wine carafe, or even a flower vase will do. But Masato wouldn't be the designer I value as much as I do if he hadn't done extensive research on the quality of the filter sieve for coffee. When it comes to making coffee, the devil is in the detail. Fortunately, one of his Japanese connections includes a top barista Mirei Tanaka introduced him, or rather us, to Gloria Pedroza. Gloria is known as a juror for the barista and roaster competitions at SCA (Speciality Coffee Association) Europe. She has an extensive professional background in the green coffee business and is a recognised taster for one of the largest coffee trading companies. Gloria is an expert in the coffee industry.
So together, we made a great troop for testing. Sometimes five or more "Coffee High Professionals" were involved in the tests. The trick is to strike a good balance between coffee volume and the flow speed for hand filtering. And we have achieved this! An international collaboration between the Japanese, Swiss, Germans, and Gloria, who is from Guatemala, led to the creation of a unique product. The Coffee Dribbler coffee maker, whether you're at home or travelling. No filter paper, no plastic!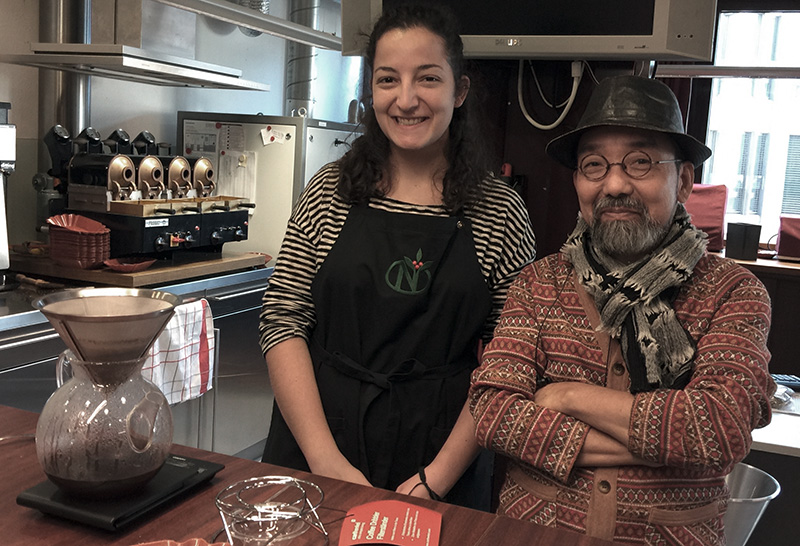 Masato Yamamoto (right)
madetostay - our new idea

The brand madetostay is our new baby, a labour of love and a project that we worked on with our friends.  These friends are Carsten Jörgensen and Peter Wirz, along with their families. The idea behind the brand is a simple one: to create things that our customers will want to keep throughout their lives. A collection whose name already stands for sustainability. A new, extraordinary room fragrance line, customised furniture, unique lights and appealing home accessories will be part of this new brand.
Every table and every lamp is designed and produced with great care taken in terms of the proportions, nature, materials, craftsmanship and people involved. The products are developed with the sole awareness that the product will accompany the owner throughout their life and become a part of their identity. For more information, please visit www.madetostay.com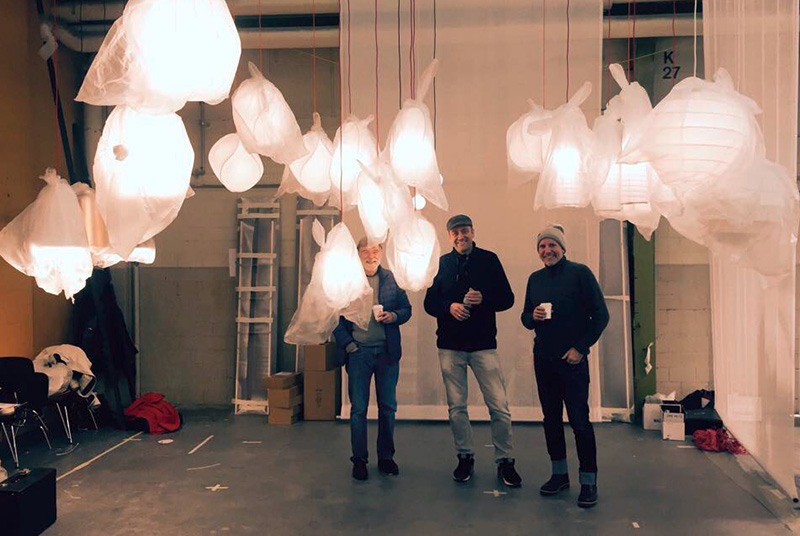 Carsten Joergensen, Jürgen Henkel and Peter Wirtz at the "Neue Räume" trade fare in Zurich
We, Carl Henkel GmbH, act as an interface in a network of designers, manufacturers, factories and customers. Our life is global. The Internet has caused distances to shrink, and logistics are global. Networks are just as important today as they were over 100 years ago when my great-grandfather founded his company. At the time, he too relied on his friends, colleagues, suppliers and partners, without whom he would not have been able to open and run his hardware shop in Korbach, directly opposite the place where he worked as an apprentice.
Light-hearted and somewhat bold, he lived and managed his company with great entrepreneurial spirit, poured his heart, soul and passion into his work as a retailer, and above all, always maintained a warm and cordial relationship with his customers. We also wish to preserve a little of the humour and confidence of my great-grandfather Carl.
If you would like to get to know us better or have further questions about our products, please do not hesitate to contact us. Thank you for your interest. We are always there for you.
Jürgen & Kirsten Henkel