Carl Henkel Brewers
TWO COFFEE LOVERS INTRODUCE THEMSELVES. SEE THE FULL ARCA STORY.
Our mission: Good coffee is simple & GREEN! With a simple method, hot water and fair-trade coffee, everyone can make a daily contribution to reducing their carbon footprint. Original taste, diverse flavours, but closely linked to a sense of responsibility for each and every cup of coffee. 


Hello, we are Kirsten and Jürgen. We founded Carl Henkel GmbH in 2010 in Lucerne, Switzerland, where we have lived for more than 20 years. Jürgen had a long career at Bodum, the company behind the famous French Press. After two more management positions, we decided to follow our dreams and start our own company. The first product we developed together with George Sowden was the Oskar SoftBrew™ coffee maker, which we still have in our range today. We worked for various companies as agencies and eventually set out to create our own brands and products.

The brand and company name Carl Henkel® refers to Jürgen's great-grandfather, who founded a company with this name in Germany as early as 1903 and still runs it as a retail business within the family. We are the owners of the online shops www.carlhenkel.com and www.madetostay.com.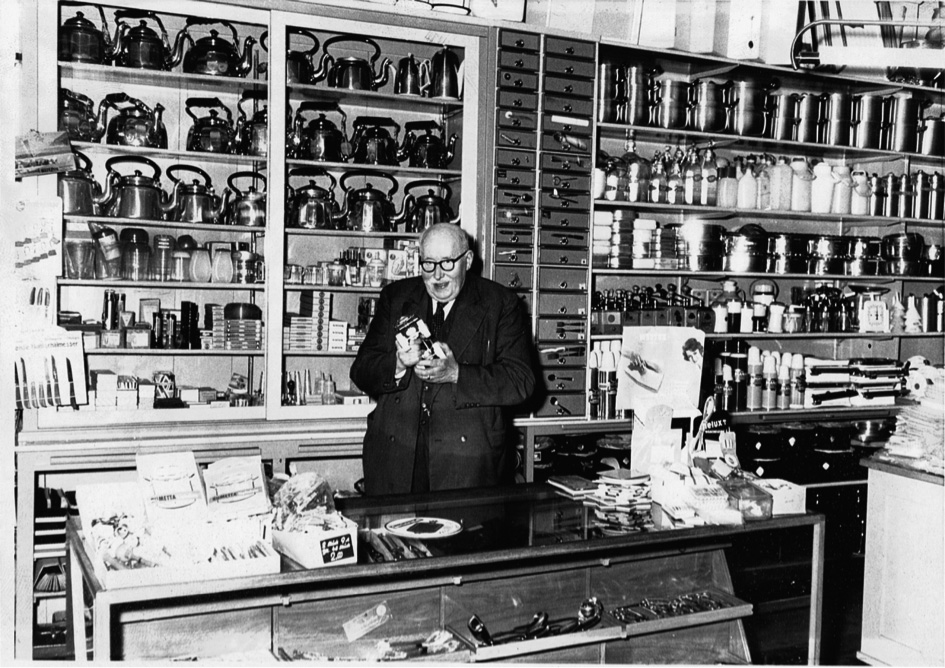 Great-grandfather Carl Henkel in his shop in Korbach
Our Carl Henkel® Brewers brand is all about the simple preparation of coffee. Our range includes simple and easy filter systems that are sustainable, durable and waste-free. We use no filter bags, no plastic and recommend no contact of the coffee with aluminium (a very controversial topic). 
"We don't want to make a science out of coffee preparation. For us, it is first and foremost about the taste, the daily ritual of making coffee should be uncomplicated, not take too long and still be a pleasure and look good when served. In addition, environmentally friendly coffee preparation is close to our hearts". 
Kirsten & Jürgen Henkel 
CARL HENKEL BREWERS MANIFEST
Our Brewers are designed for the simple preparation of good coffee, with an appealing design.
Our Brewers are manufactured in an environmentally friendly way with durable materials, the design is timeless and beautiful, the user should enjoy it for a lifetime.
We do not use unnecessary consumables such as paper filters or plastic parts in our Brewers. We want to avoid contact of the coffee with aluminium or other critical substances.
Our company shows solidarity with small coffee producers and roasters who grow, process and preserve coffee in a natural way and act conscientiously, without empty promises.
We refrain from standardised coffees with a consistent same taste, we see this purely as a goal of the coffee industry, the path of the coffee bean from the plantation to our cup becomes opaque.
Our company is not one of the self-proclaimed coffee experts with their finger up in the air. We don't see making coffee as a religion or a science. For us, making coffee should be and remain simple and a pleasure.
Our preferred coffee brewing system is "immersion brewing", which is not unlike boiling tea. We have named it x-tract-brew® and have trademarked the term. We use this double patented filter in the ARCA and the IONIC, which is so fine that you can simply brew over the coffee as you would when making tea and leave the filter in the pot. Professionals do the same with professional "cupping" in terms of the result. You get all the nuances of the coffee as a flavour in the cup.
Thank you for your interest. Kirsten and Jürgen are available for you. Just send us an e-mail at [email protected] if you have a question, if you are a trader, customer, coffee roaster or coffee fan and would like to make a comment or if you are particularly happy or dissatisfied with something.  
Best regards 
Kirsten & Jürgen 
Would you like to see our Brewers? Please follow the link