Carl Henkel Brewers
FAMILY BUSINESS - PERSONAL & RELIABLE
A young company with a family tradition, that's us: Carl Henkel GmbH.
Small family businesses have their own strengths, such as the personality and accessibility of the people involved. We - Kirsten and Jürgen Henkel - want to do everything we can to provide a reliable service for our customers in the online shop or in the trade and gastronomy. We have refrained from working with the big trading companies for many years now. On the contrary, we enjoy the fair cooperation with our shop customers and the specialised trade of the different branches. Instead of tough negotiations in annual meetings, we now have nice friendly encounters by e-mail, phone or even in person. Of course there are mishaps and problems - but they can be solved. We are happy to answer your questions directly. Jürgen's e-mail address: [email protected]
My great-grandfather Carl Henkel founded his shop of the same name in Korbach, in northern Hesse, back in 1903. It still exists today and is run by my brother Harald and his family. We are glad to feel a return to the specialist trade there as well. A personal conversation always replaces the time spent in the queue at the parcel counter or the telephone queue of Amazon and colleagues.
We don't want to deny our origins either and feel connected to the family tradition and its values. The male descendants in our family all bear the name Carl or Karl and so it made sense to name our company Carl Henkel GmbH when it was founded in Lucerne in 2010. In the meantime, we have also succeeded in having the name Carl Henkel® protected for our products. You wouldn't believe how difficult and expensive it is to be allowed to put your own name on the products. My family and I have been living and working in Switzerland since 1999. A location in the middle of Europe, from where we can optimally maintain contact with our customers. The goods are shipped from Germany, located in Braunschweig, centrally located in the middle of Europe. There we have found a logistics partner in Streiff & Helmold that enables us to offer a good service both nationally and internationally. We think and feel European and communicate in German and English.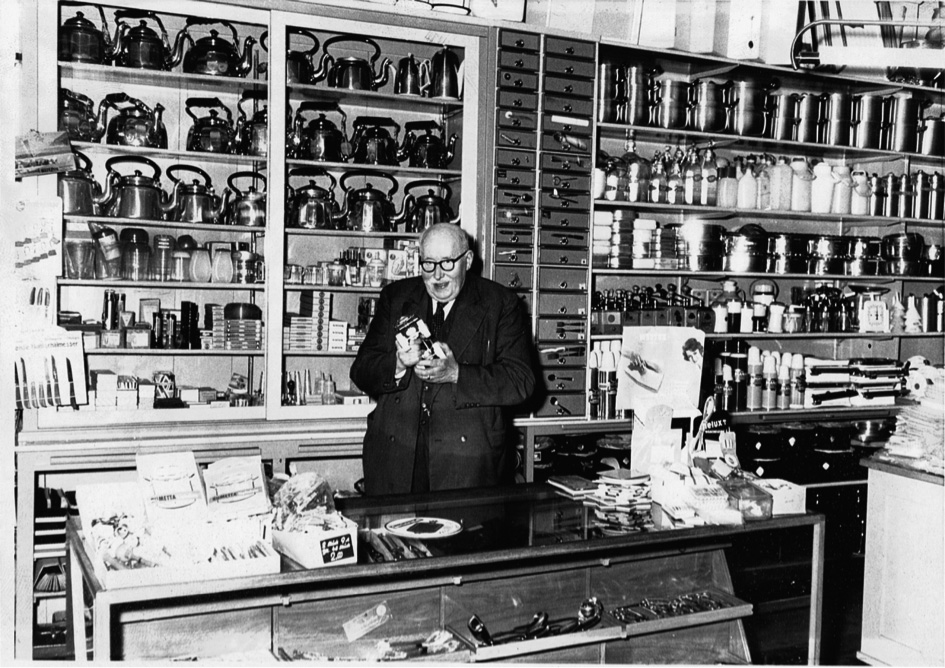 Great-grandfather Carl Henkel in his shop in Korbach
Our Carl Henkel® Brewers brand is all about the simple preparation of coffee, or SLOWCOFFEE if you want to put it in a more modern way. Our range includes simple and easy filter systems that are sustainable, durable and waste-free. We use no filter bags, no plastic and recommend no contact of coffee with aluminium (a very controversial topic).
Quite simply: coffee without waste - Good coffee is simple.
CARL HENKEL BREWERS MANIFEST
Our Brewers are designed for the simple preparation of good coffee, with an appealing design.
Our Brewers are manufactured in an environmentally friendly way with durable materials, the design is timeless and beautiful, the user should enjoy it for a lifetime.
We do not use unnecessary consumables such as paper filters or plastic parts in our Brewers. We want to avoid contact of the coffee with aluminium or other critical substances.
Our company shows solidarity with small coffee producers and roasters who grow, process and preserve coffee in a natural way and act conscientiously, without empty promises.
We refrain from standardised coffees with a consistent same taste, we see this purely as a goal of the coffee industry, the path of the coffee bean from the plantation to our cup becomes opaque.
Our company is not one of the self-proclaimed coffee experts with their finger up in the air. We don't see making coffee as a religion or a science. For us, making coffee should be and remain simple and a pleasure.
Our preferred coffee brewing system is "immersion brewing", which is not unlike boiling tea. We have named it x-tract-brew® and have trademarked the term. We use this double patented filter in the ARCA and the IONIC, which is so fine that you can simply brew over the coffee as you would when making tea and leave the filter in the pot. Professionals do the same with professional "cupping" in terms of the result. You get all the nuances of the coffee as a flavour in the cup.
Click on the following link to find out more about our coffee brewers: www.carlhenkel.com/de/coffee-brewers/
OUR CLAIM: "GOOD COFFEE IS SIMPLE"
Original taste, diverse flavours, but closely linked to a sense of responsibility towards each and every cup of coffee.
1.5 million trees have to be felled for the pulp production of filter bags!!! But why do we still need filter bags? We, like many specialists, cannot understand the arguments for better taste. Paper filters have come back into fashion and are used for extremely fruity coffees. In competitions, people want to prove an absolutely clear cup and filter the good oils and suspended matter out of the coffee as best they can. However, you also filter some of the flavours out of the drink. We have spoken to many professionals, including world champions and book authors of standard works. They love our x-tract-brew method and use it privately for their first moments of pleasure in the day...
We find the transport and trade logistics alone, including tons of plastic packaging for the paper filters from America and Japan, questionable. Even your trip to the supermarket or petrol station on Sunday is no longer necessary if you buy an ARCA. You only need coffee and hot water. This should also be easy to organise for coffee when travelling. We always have our ARCA with us when we go on holiday. As an addendum: plastic and boiling water are harmful to health and the environment, as are aluminium or plastic capsules. Good old filter coffee has by far the best environmental balance, the taste is not adulterated by foreign additives. Good, fresh coffee and hot water, that's all you need.
"We love coffee!", WITHOUT COMPROMISES.
Yes, we also have great teapots in our range and some accessories. In the summer of 2020, we decided to concentrate entirely on the coffee range for the time being in order to bundle our strengths. Our customers had to close their shops from one day to the next and the gastronomy didn't know how and when to continue. We are selling off our stocks at favourable prices and will think again when the time comes.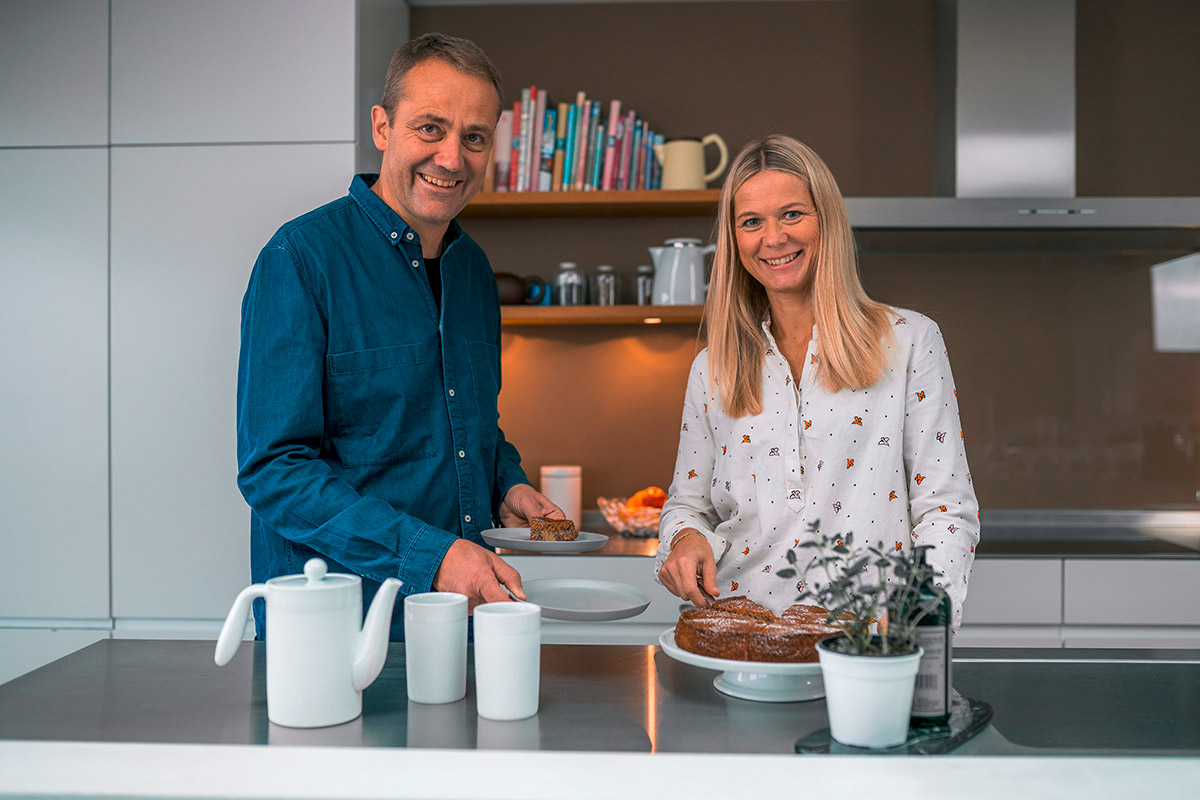 Karl Jürgen Henkel                                     Kirsten Henkel
We founded our company in 2010. Carl Henkel GmbH has worked as a commercial agent for various furniture and design brands in the following years. Among others, we were responsible for the distribution of Design House Stockholm, Normann Copenhagen, Arco Holland or Piure from Munich.
GEORGE SOWDEN AND THE SOWDEN SOFTBREW
From the beginning, we always wanted to deal with "our own" meaningful products. We always enjoyed working with the producers and designers. George Sowden had developed a coffee maker with a permanent filter. George Sowden is a star in the design and art world. His partner Nathalie du Pasquier and he were co-founders of the legendary Memphis Group around Ettore Sottsass. In recent years, Memphis products have been hyped again very strongly. Especially after it became known that David Bowie's estate contained numerous unique pieces by individual artists of the Memphis Group. David Bowie had furnished his private rooms with Memphis furniture. We have a close, friendly relationship with George Sowden and the Sowden Oskar SoftBrew was developed together.
A whole range of "Housewares" followed and Carl Henkel GmbH was the sole exclusive partner for Europe. The first trade fairs were exciting and the reactions of customers and the press were great. Several other Sowden coffee makers followed the Oskar SoftBrew, one bears the name of our son "Jakob" and was initially produced as SoftBrew Coffee and SoftBrew Tea with a wooden lid. We later concentrated on the original Sowden Oskar coffee pot in porcelain with a porcelain lid. In white, the coffee pot fits perfectly into any household and is therefore more sustainable, because colours are often more fast-moving and you might get tired of them.
We also did not accept the change to plastic lids because we developed an aversion to this material early on. The Sowden Oskar coffee maker is still the most beautifully shaped and, in our opinion, the best product in the Sowden Collection and will remain the original. Our values are clear: avoid plastic whenever possible.
A word about copies / imitation products from brands or large chain stores or retail groups. So far, we have not discovered any product where the filter is suitable for making coffee. Even if the companies themselves copy our instructions for use, films and typographies, the quality of the products is so poor that unfortunately the purpose of the appliance is not fulfilled. The difference lies in the details. We do not recommend buying anything at all but these plagiarisms. At best, you can use them for cold brew, herbal infusion or tea.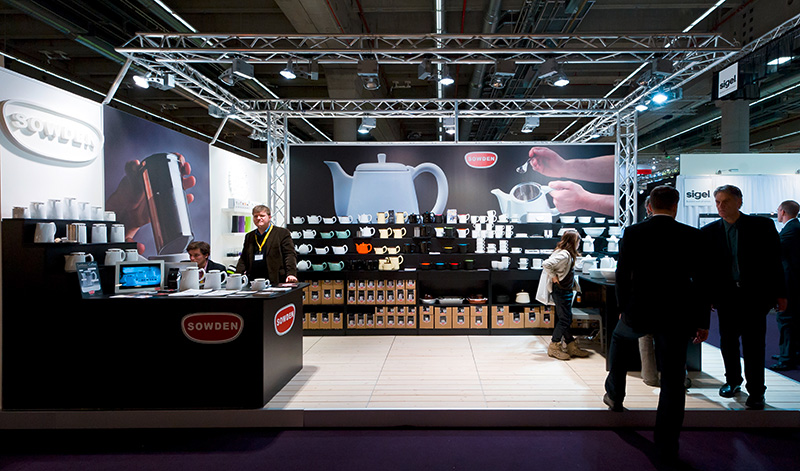 George Sowden (far right) at Messe Frankfurt
FURTHER DEVELOPED - THE IONIC - COFFEE MAKER WITH DOUBLE FILTER
Our greatest pride and joy is the ARCA x-tract-brew. This was presented at the World of Coffee in Berlin in 2019 and immediately nominated as the best product of the fair. This coffee pot made of borosilicate glass with stainless steel filter and porcelain lid is absolutely our own Carl Henkel Brewers product!
We are absolutely convinced of the ARCA in all dimensions: Perfect coffee - durable materials - eco-friendly - stylish great design characterise the ARCA. We also immediately succeeded in developing a packaging without any plastic at all. It protects the product from breakage during transport and has all the important information and labels such as the green dot printed on it. Instructions for use are inserted in each coffee pot.
The IONIC series has led us to this new product and success. It is completely in line with our taste and has excellent porcelain quality and the same double filter on the coffee makers. Some restaurateurs have used the IONIC coffee makers in their service. The good coffee quickly caught on with the guests, but the spout was not the perfect solution when washing up in the catering trade, which is why we asked the designers Yamamoto & Co to develop the robust ARCA in glass without a protruding spout. For private use, however, the exposed spout can prove to be an advantage, especially as the porcelain is of high stability. The spout is located at the bottom and ensures better mixing of the coffee. This guarantees a perfect cup of coffee from the very first cup. With a simple (cheaper) spout at the top of the coffee pot, you have to stir well, otherwise the first cup of coffee might be a little watery.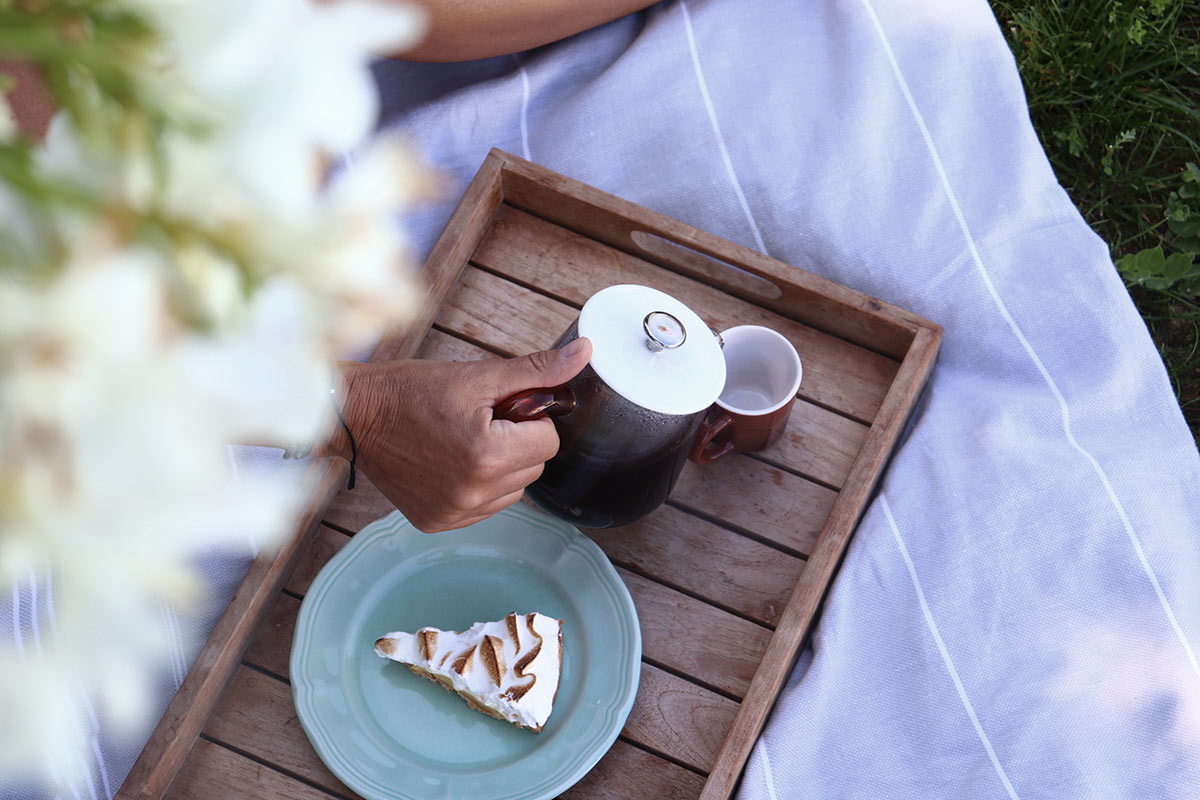 MADETOSTAY - THE NEW IDEA
In 2017 we launched the brand madetostay, a matter of the heart, a project with friends. The friends are Carsten Jörgensen and Peter Wirz with their families. The idea behind the brand is simple: to design things that our customers want to keep for a lifetime. A collection where the name already stands for sustainability. A new, extraordinary room fragrance line, individual furniture, unique lamps and appealing home accessories will be part of this new brand.
Every table, every lamp is designed and produced with care - care for proportions, care for nature, care for materials, care for craftsmanship and care for people. The products are developed with the sole awareness that the product will accompany the owner for a lifetime and become a part of his identity. More at www.madetostay.com
Carsten Joergensen, Kirsten Henkel, Jürgen Henkel and Peter Wirtz
We, Carl Henkel GmbH, act as an interface in a network of designers, manufacturers, factories and customers. Our life is global. The Internet has caused distances to shrink, and logistics are global. Networks are just as important today as they were over 100 years ago when my great-grandfather founded his company. At the time, he too relied on his friends, colleagues, suppliers and partners, without whom he would not have been able to open and run his hardware shop in Korbach, directly opposite the place where he worked as an apprentice.
Light-hearted and somewhat bold, he lived and managed his company with great entrepreneurial spirit, poured his heart, soul and passion into his work as a retailer, and above all, always maintained a warm and cordial relationship with his customers. We also wish to preserve a little of the humour and confidence of my great-grandfather Carl.
If you would like to get to know us better or have further questions about our products, please do not hesitate to contact us. Thank you for your interest. We are always there for you.
Jürgen & Kirsten Henkel