Sowden Oskar SoftBrew porcelain coffee brewer – Carl Henkel Brewers
SOWDEN OSKAR SOFTBREW – COFFEE BREWER WITH STAINLESS STEEL FILTER.
A simple infusion method for brewing coffee.
Delivery time
1-3 workdays
Sowden Oskar SoftBrew porcelain coffee brewer – Carl Henkel Brewers
How it works
The Sowden SoftBrew™ filter is the technological heart of the SoftBrew™, with thousands of holes, fine enough to block all grounds larger than 150microns - practically speaking, this means that you are free to use any type of grind you choose - fine, medium or coarse - the Sowden SoftBrew™ filter does the rest - used together with the Sowden porcelain coffee pot it is designed to keep the coffee grounds out of your cup whilst letting all the flavour from the beans brew naturally and flow unhindered or trapped.
The Taste of Coffee
The best cup of coffee is the one that you like!
The Sowden SoftBrew™ can be easily used to help you find the brew that best satisfies your tastebuds – after all, some like their coffee very strong and others prefer a light, refreshing cup. The Sowden SoftBrew™ pots come in 3 sizes - small, medium and large. We also provide a 7-gram-measuring scoop, equivalent to a heaped teaspoon, and we suggest 2 or 3 scoops in the small pot, 4 or 5 in the medium and 6 to 8 in the large. Try varying these amounts considering that the origin, the roast and the grind size of coffee beans will also influence results. Experiment and discover the cup that you enjoy most.
HOT SOFTBREW COFFEE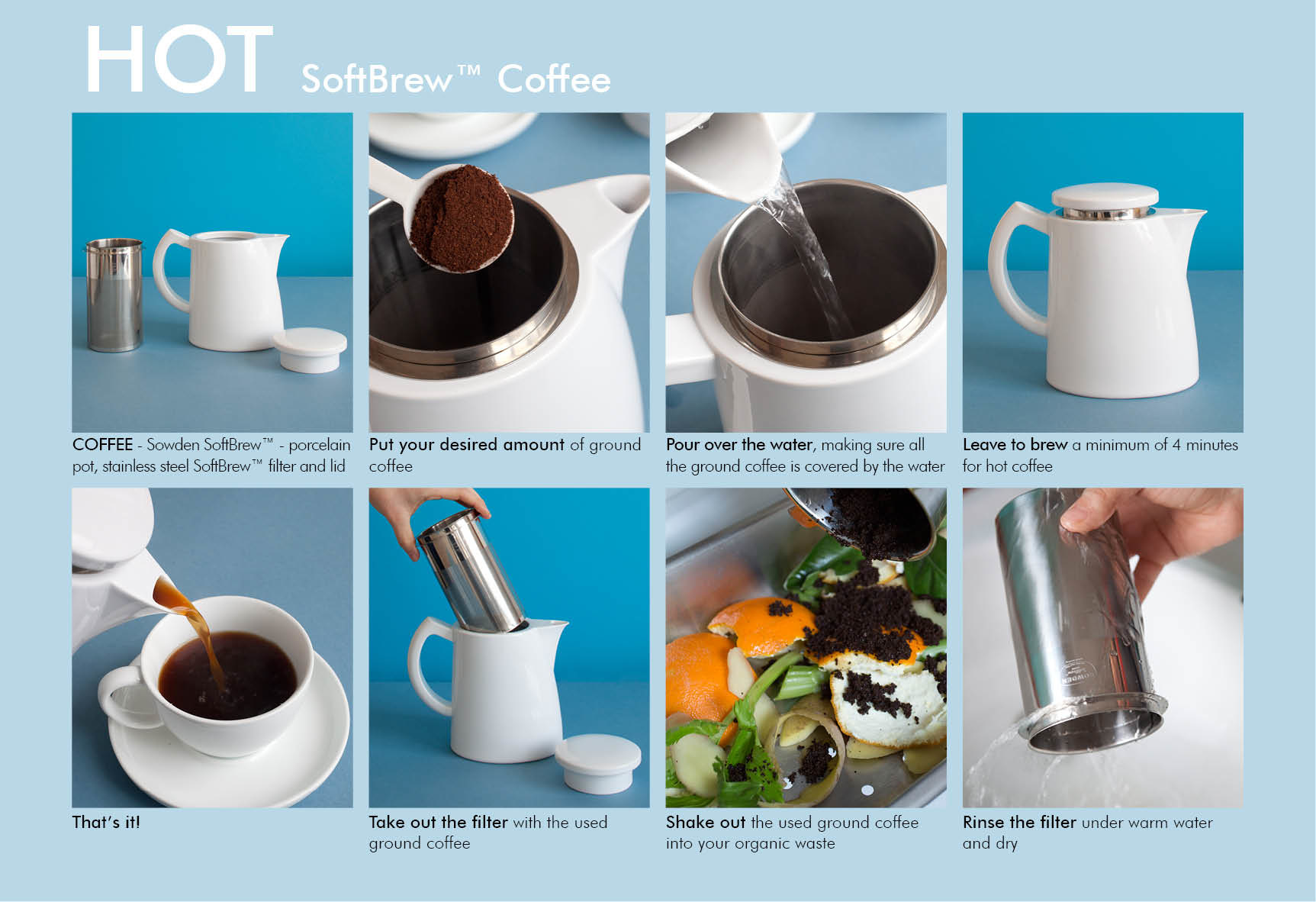 COLD BREW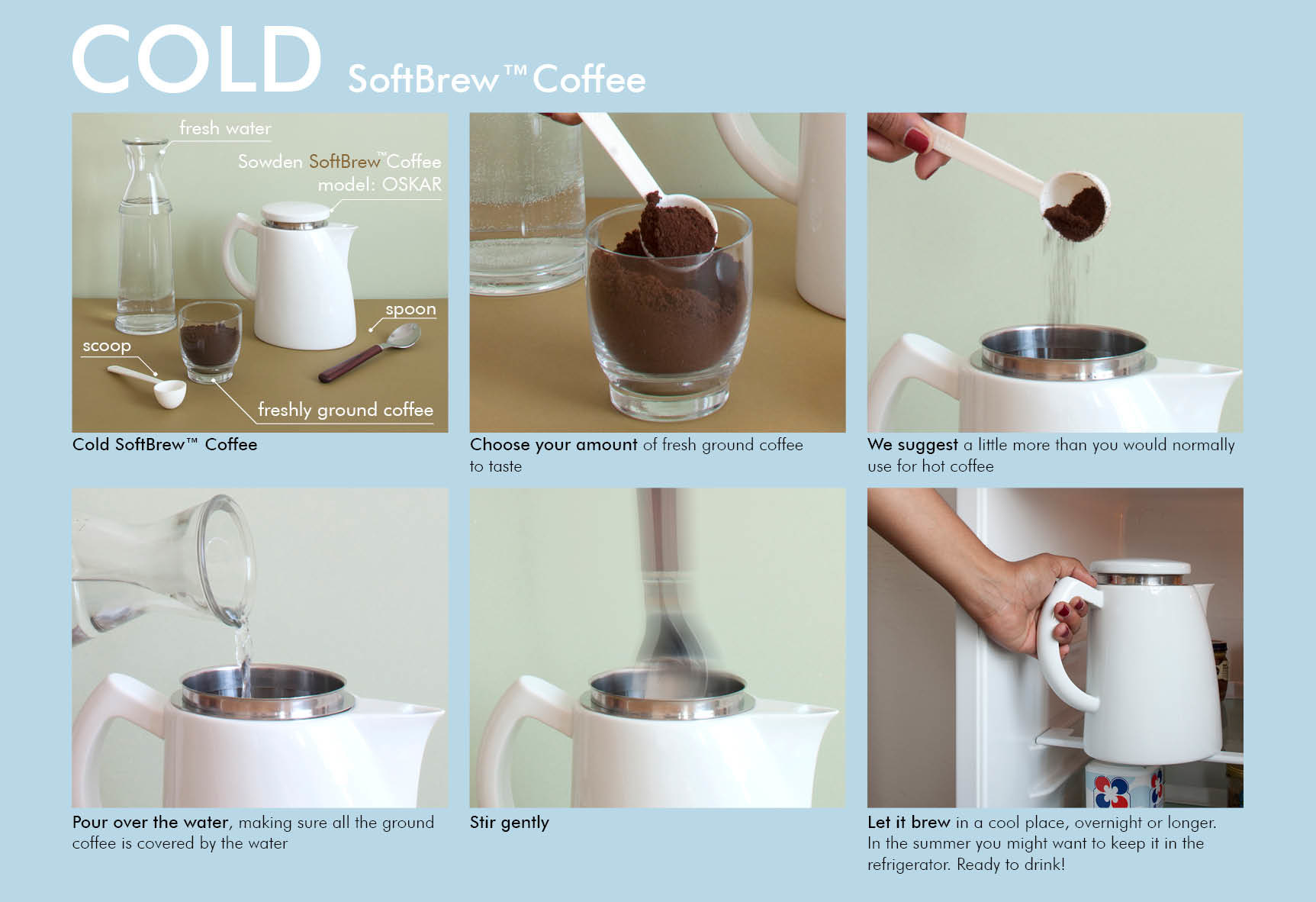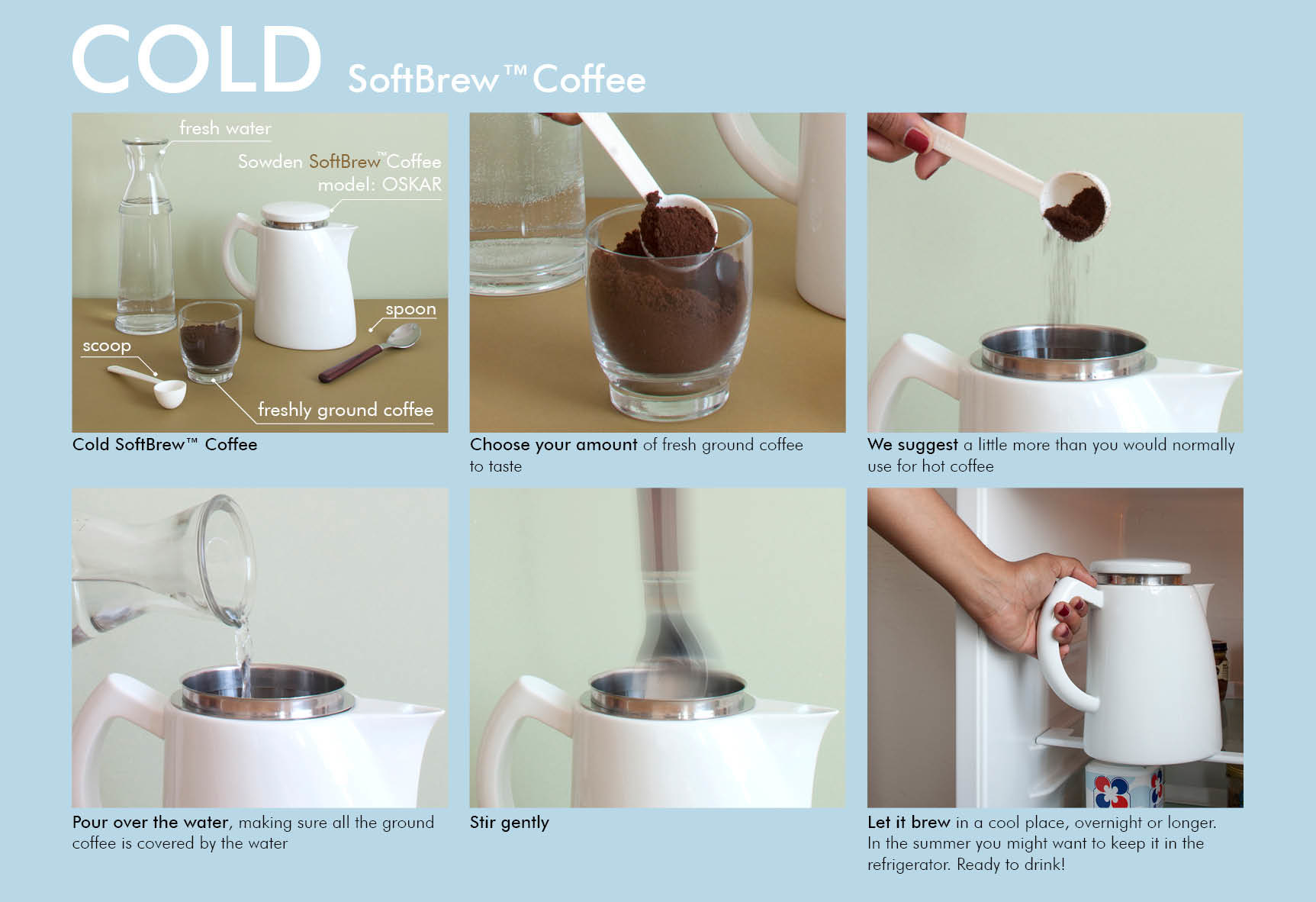 GEORGE SOWDEN ON War on Waste
"Let's stop the waste caused by tea bags and coffee capsules and enjoy a better-tasting brew" says George Sowden. Just look at the statistics, they are frightening. The UK Tea Council tells us that 96 per cent of the tea consumed in the UK is made with tea bags, representing 62.5 billion cups a year (165 million cups a day) sending some 370,000 tonnes into UK landfill sites - just for tea! Add to this, 56 billion coffee capsules and the paper filters used for many of the 400 billion cups of coffee the world consumes annually, the quantities are enormous.
Does this ecological problem produce a better-tasting coffee or tea? "Quite the contrary, nothing is better than fresh ground coffee and loose leaf tea" Sowden says, "and with our Sowden tea and coffee brewers; the porcelain pot, together with the Sowden SoftBrew™ filter means that brewing is done easily, with nothing to throw away (except the used ground coffee or the used tea leaves)". He went on to comment "you can add another waste caused by coffee capsules and tea bags… a waste of money."
Material: Jug and lid in white porcelain, Filter made in stainless steel.
Dimensions and capacity:
OSKAR Coffee 0,4 Litre: height including lid 10,5 cm, capacity 0,4 litre / 14oz., weight 600 g
OSKAR Coffee 0,8 Litre: height including lid 14 cm, capacity 0,8 litre / 28oz., weight 800 g
OSKAR Coffee 1,3 Litre: height including lid 18 cm, capacity 1,3 litre / 45oz., weight 1000 g
Design: George Sowden
Cleaning: All parts can be put into the dishwasher.
What we deliver: Porcelain jug with stainless steel filter and porcelain lid including measuring spoon for ca. 7g (one cup of coffee).

0

stars based on

0

reviews
0

stars based on

0

reviews