SLOW TEA

Tee is one of the finest drinks in the world. It is all the more astonishing how little thought we put into making this drink, which is seeped in history. In addition to countless types of tea, there are just as many methods of preparing tea as well as occasions to enjoy it.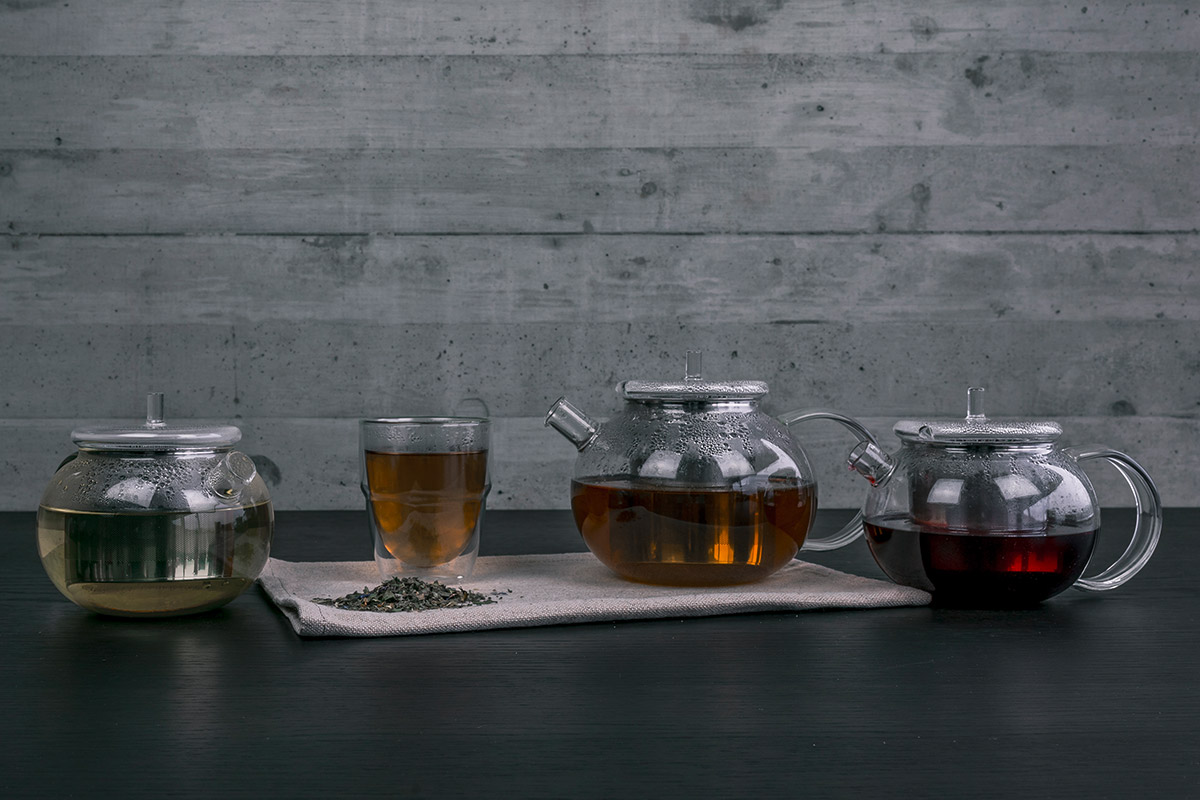 THE ECO-FRIENDLY WAY TO BREW TEA

The quick-fix tea bag is not the best choice here. For a more sophisticated experience, it is important to pick the right source, quality and method of preparation of the tea. The ritual of making tea with loose tea leaves is just as much an experience as enjoying the tea itself. Real luxury for a short break from everyday life. We do not recommend expensive tea machines or capsule machines for tea. Why do we even need all that equipment to brew such a simple but wonderful drink as tea? That is absolutely absurd for us. Why create all this waste? It is our health and the environment that are at stake here, and not convenience as we have been falsely led to believe. Slow Tea is no less convenient than other methods. It's simple and very fast, all you have to do later is dispose of the tea in the compost and rinse the pot and the tea filter. But don't the capsules, teabags (the packaging and foil) and other items have to be disposed of and rinsed too?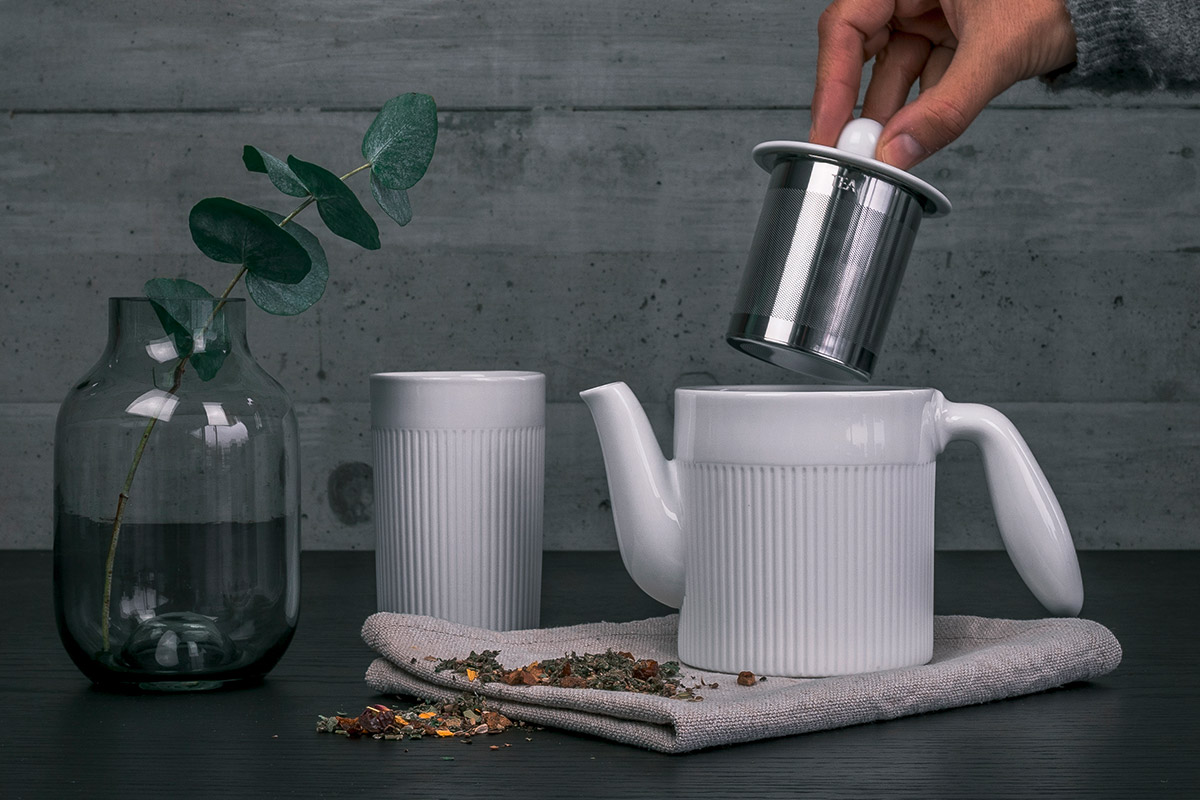 BILLIONS OF UNNECESSARY TEABAGS



Tea culture is celebrated in different ways in various parts of the world. In Europe, England is probably the nation most often associated with tea. Around 2.27 kilograms of tea per personis consumed here. According to Wikipedia, this makes England the 9th biggest consumer of tea in the world. Let us calculate this: If out of the 2.27 kg of per capita consumption, 2 kg per person is filled into tea bags of 20g each, that makes 100 bags of tea for each Briton. With a population of 66 million, this means a consumption of 6.6 billion teabags made of wood pulp in the United Kingdom, including packaging! Crazy!
It is very easy to brew your tea without using any plastic, (plastic) teabags, non-woven material or pulp in a glass or porcelain teapot. Even if the advertisement advertises "aromatic bags" and other things, the quality and taste does not even come close to that of loose tea, and is more damaging to the environment.
We always use a teapot with a sieve to make loose tea. Simple and traditional. Open loose tea comes in more eco-friendly packaging, and the quality is usually far better than tea capsules or teabags. Should we also make a price comparison including the consequential costs for such environmentally harmful tea capsules? If we did, we would probably receive warnings from multinational tea companies and tea capsule companies. You can rest assured that buying a nice teapot will give you pleasure every day for many years and the investment will pay for itself in a relatively short period. You may even buy another tea maker. Maybe for trying out different varieties, a different size, to get another one to go with the crockery or as a gift to a loved one. We promise! Once you get used to your special tea-making ceremony, you will want to share it with your friends. Slow Tea is contagious!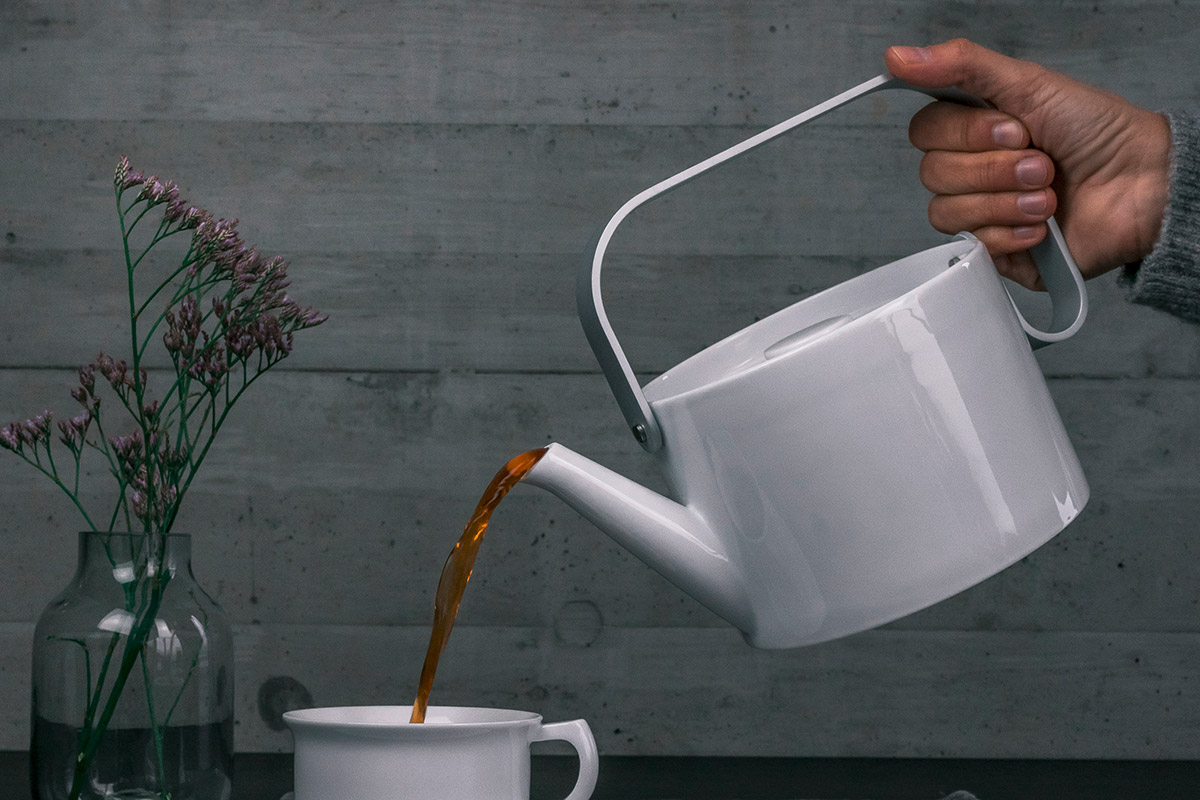 HOW TO MAKE REAL SLOW TEA



How is loose leaf tea supposed to be brewed? This usually varies somewhat depending on the type of tea. Different cultures also have different preferences when it comes to how they like their tea. Fruit tea, herbal tea, medicinal herbal tea, and most children's teas are uncomplicated. These teas can stay in the pot. Our teapots are equipped with a stainless steel filter, which is fixed in the pot. The lid on most of our teapots hold the reusable filter in place and therefore cannot fall out. For iced tea, you can brew a tea concentrate and add ice cubes to it.. There are very good tea recipes for iced tea too. The Tea TaC works especially well for brewing iced tea. The procedure is described further below in this article.
When it comes to making green tea or black tea, you need to know your way around a bit and discover your personal preferences regarding the steeping time of the particular variety of tea. In Asia, small teapots are used for making green tea, and the tea is left to brew for a few minutes, a relatively short time. Then, the entire contents of the teapot are poured into the cups. If you want to make tea according to this method, we recommend the small 0.5l-teapots such as GOGO or MINA. For black teasuch as Assam, Earl Grey, Darjeeling, etc., the filter is removed from the teapot. This also goes for flavoured black tea blends. Bigger teapots are usually used here.
Matcha tea has become very popular in recent years. We have not yet learned the matcha tea ritual in detail. We have lovely tea accessories because matcha tea is stirred. We have to learn more about it before we can offer a product. At the moment, we do not have any special products for preparing matcha tea.
There are special tea recipes for making special teas  such as detox tea or for treating illnesses. Usually, for medicinal herbal teas, the tea stays in the teapot. Here too, our teapots make for the perfect tool when you want to make some tea for a stomach ache or if you have a cough.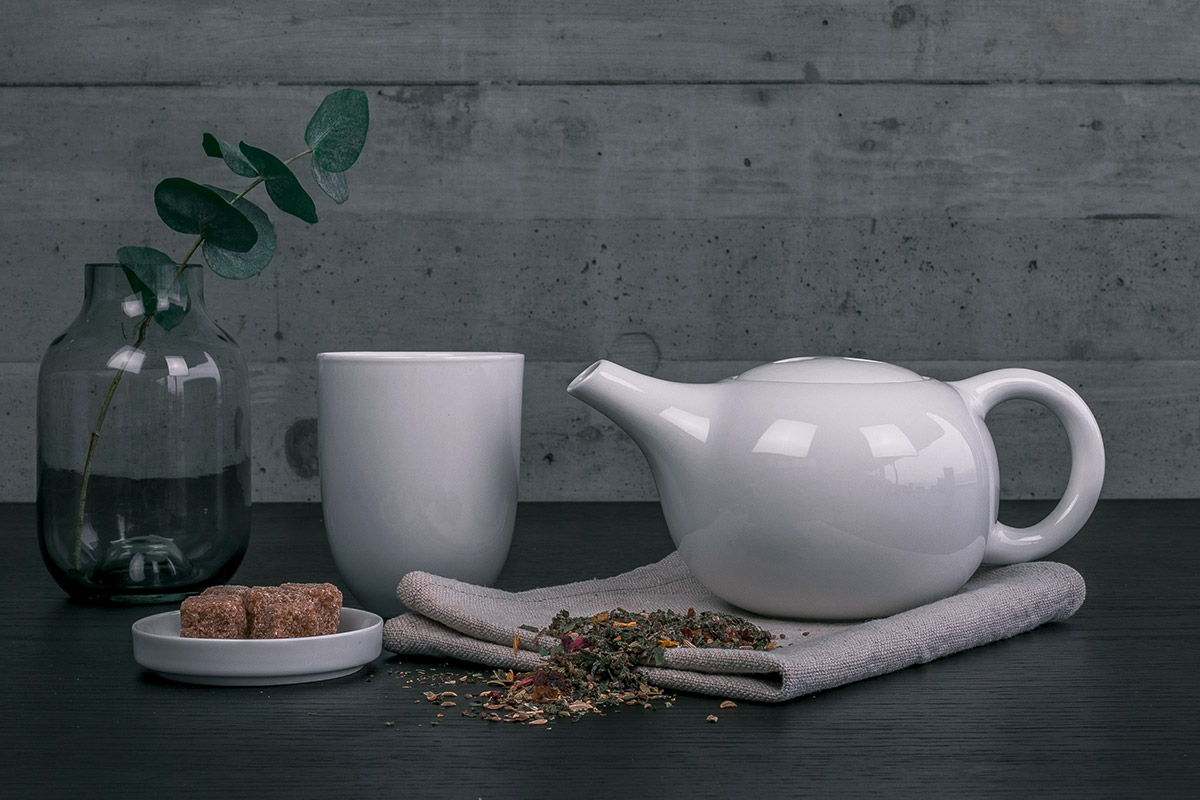 WHICH IS THE RIGHT TEAPOT FOR ME?
This brings us to another question. Can one teapot be used to make different types of tea? This is easily possible in the case of porcelain and borosilicate glass, which are used in making our teapots.. Cleaning them by hand with detergent or in the dishwasher works well and your green tea won't taste like the children's tea from the day before. It depends on how well you clean it and not on the material. This is not the case with ceramic pots.
Making coffee and tea with the same pot used to always be an absolute no-no. But here too, the material that the pot is made of is not the problem. One may taste a residue of tea or coffee due to the fine mesh of the stainless steel filters of the SOWDEN OSKAR coffee maker or the IONIC COFFEE POT. Technically, there is no problem and after putting it in the dishwasher or washing it thoroughly by hand, the taste should be gone.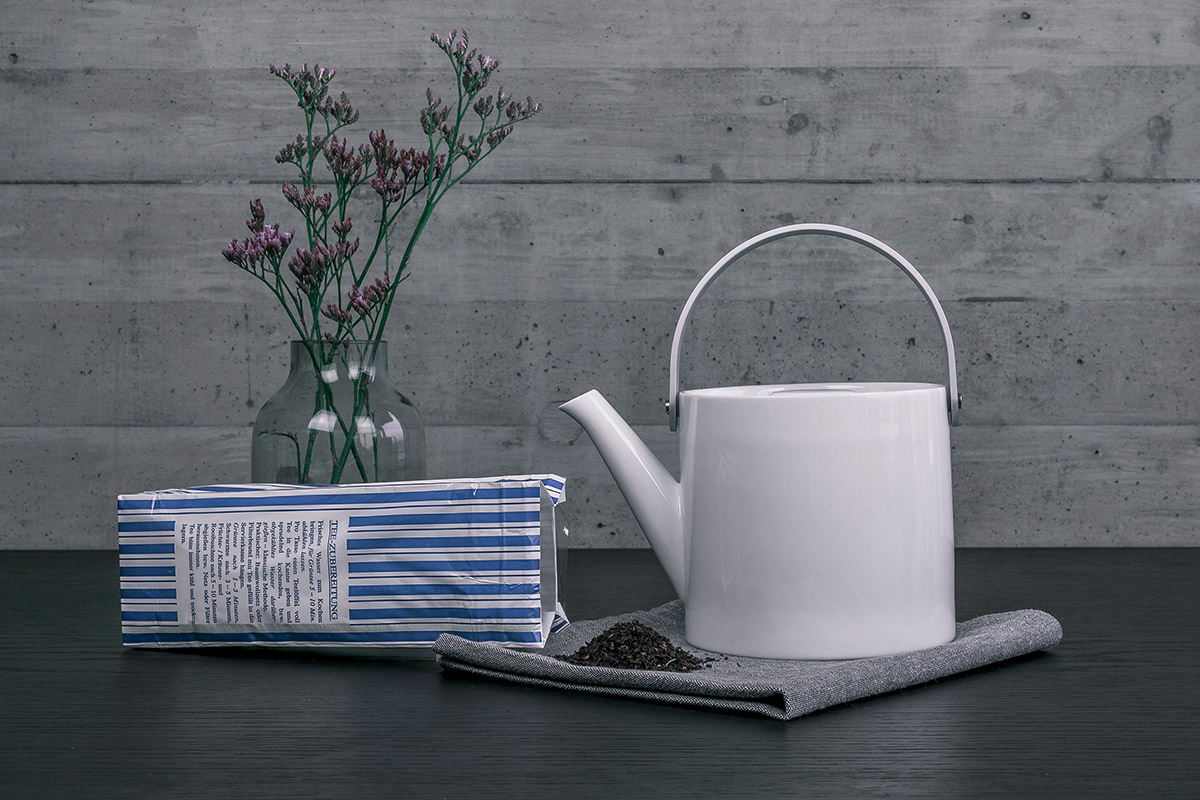 OUR TEATAC BREWS TO THE SECOND
To our Tea Freaks: we bring to you the Tea TaC. The Swiss designer, Georg Fontana, was annoyed because he, a passionate tea lover, kept missing the ideal brewing time and the tea would steep for too long because he either forgot to set the egg timer or didn't hear it. His creation is probably one of its kind in the whole world. The Tea TaC is placed on a straight teapot, the brewing time is set and the rest is left to the appliance. The Tea TaC lets the tea automatically go into the pot after the set time has elapsed. The Tea TaC is also ideal for all types of tea. If you like iced tea, you can let the fresh, hot tea pour on to ice cubes in the jug below so that the tea cools down immediately. You can also prepare concentrates with a longer brewing time and more tea, which can be diluted later. This is a very good option for the food service industry, for example.
Our friends from Taiwan gave us an understanding of tea. We really enjoyed the tea ceremonies during our visits. We made most of our tea utensils in cooperation with the Smith & Hsu tea salon. We wanted to adapt this great drink to a modern context. We live in a world that needs to reorient itself towards a more eco-friendly way of living. The madness can only be fought in small steps by each and every individual. It is the daily routines that need to be changed. Making tea is probably the smallest of them all. You will notice that brewing loose leaf tea is a very simple ritual. It doesn't cost more time than the ecologically worse alternatives. Quality of life is also the sum of different little things.
Let's begin today.